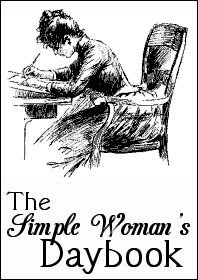 FOR TODAY, AUGUST 11, 2020
Outside my window...
...bright and sunny and 91 disgusting degrees. (With the heat index, 97.) I dream and fantasize about autumn (so long as it's not like last autumn, where it was in the 90s up until October 29), and live knowing that every step of August taken brings us one stride closer to October.
I am thinking...
...that I hadn't done a blog entry in so long that I'd do one of these for good measure. This way two things are accomplished at once. It's not like the news seems to have improved. Politics still raging hammer and tongs by people who seem ill-equipped to provide leadership (yes, I'm talking all sides). We've lost an elder statesman (John Lewis), a radio voice who was always interesting (Herman Cain), and an icon (Olivia DeHavilland, at age 104). Children have tried to go back to school, only to see COVID-19 increasing. Several days after New Zealand reopened after 104 days of lockdown, they are already seeing new coronavirus cases. We wash and mask and avoid others, and society seems to get meaner and ruder and crankier each day. Beirut is in mourning. Still can't find isopropyl alcohol, Lysol disinfecting wipes, and Lysol spray. Sometimes all that seems to stand between me and stark raving madness is instrumental Christmas music and books to read.
I am thankful...
...things are
kind
of balancing out. My sister-in-law did indeed need to get her foot amputated; the infection in it was too far gone to trust and she already had gangrene in one toe. She is presently at rehab a long hour's (actually more than an hour) drive from her home (the VA sucks) (and her rehab has been delayed due to a health problem that was at least taken care of quickly), so my mother-in-law is staying with another of my sisters-in-law near Gaffney, South Carolina. Sadly, this is nothing that will "fix" quickly.
James, at least, is back to work full time, starting three days ago. Laundry day is now back to Wednesday. Snowy is singing happily "helping" Daddy work on the telephone. Tucker is in his usual catlike position asleep under the dining room table. I have solved the puzzle of mask carrying and Emma's housewarming gift is on its way through an increasingly beleaguered postal system. And, praise God, Kaiser
did
approve James' request for a new power chair. We're waiting for it to come in.
In the kitchen...
...the small slow cooker is running. I went to Lidl and to Kroger this morning (actually had to go to two Krogers because neither Lidl nor the Mableton Kroger had skim milk). Lidl had chicken drumsticks at 69 cents/pound and I wanted to get a second package (bought one last Wednesday). In a corner of the chicken frozen food case I saw these chunks of round roast marked "too good to waste." Their sell-by date was today and they were marked down to...$1.50. Yes, you read that correctly. Of course I bought one, originally priced at $13.55, and once home
popped it into the baby crock pot with Trader Joe's Island Soyaki marinade and some sweet soy sauce. Cut it into quarters while browning it first, and realized the smallest quarter would not fit into the crock pot. Since it was round steak, I just sliced it up and finished it cooking for "steaklets" to go in a sandwich tonight. (James is going to make steak and eggs with his portion, I believe.) Anyway, what's in the slow cooker smells delightful. We had the thin pork chops I bought yesterday at Nam Dae Mun for midday dinner, and tomorrow I will cook half the chicken drumsticks for dinner and put the other half away.
I am wearing...
...a blue flowered tank top, black shorts, and white socks. (No khakis, since I'm not Jake from State Farm. 😁 )
I am creating...
...well, I've gone back to attempting order out of chaos and gone back to dubbing off items on the DVR to the DVD recorder. Most of the stuff is on there to watch, but I have things I don't want to lose, like
Better Late Than Never
(still silly but fun the second time around) and some rare Merv Griffin Christmas episodes GetTV showed a few years back. I'm also thinking about making "mask leashes" for sale. I cooked these up for James and I for when we are running errands to multiple stores. They fasten on the elastic bands on the face mask. This way the moment you get out of someplace and safely away from people, you can take them off and they will hang around your neck and you don't have to worry about having to carry it in one hand while manhandling groceries.
I am going...
...alas, at this moment, going nowhere in particular. Even Barnes & Noble is no fun any longer. They only seem to promptly stock bestsellers, so the mystery and SF sections are way out of date, and it seems every time I go there are more toys and junk and fewer books. The side of the store building says "Booksellers"
not
Toys'r'Us. Where are more books?
I am wondering...
...what caused a very scary spell of heart palpitations on Sunday night. I was out walking the dog and they suddenly came upon me as I was on the return trip, opposite the next door neighbor's home. I haven't had a spell like this since 2015. We spent nearly an hour wondering if it was bedtime for us, or Urgent Care for me, but my heart pill finally kicked in (this is normal; it takes around an hour to dissolve and get into my bloodstream) and it stopped as suddenly as it began. Once again, I did have very bad indigestion from dinner as happened the very first time I had palpitations, and the doctor did say they was linked to my acid reflux.
I am reading...
...
A Furious Sky,
a history of hurricanes in the U.S. Also a "Reader's Digest" book about the United States. The hurricane book was written by the same author who did
Brilliant Beacons
(a history of American lighthouses), so I am really enjoying it.
I am hoping...
...Candy (my sister-in-law) has no more health setbacks at rehab and can get through the two-week treatment with no more trouble. Having to adjust to the loss of part of her left leg is difficult enough!
I am looking forward to...
...actually, nothing. Everything seems to have been cancelled. Stone Mountain Park claims they are still holding the Yellow Daisy Festival. If so, I guess we'll mask up and bring lots of hand sanitizer and go. DragonCon's cancelled, so the next thing up after Yellow Daisy would be the Apple Festival; we'll see if that happens.
I am learning...
...I wish I'd learn patience, but I have so little of it sometimes. Things make me angry so quickly these days, and I hate that.
Around the house...
...have the ceiling fan on high and am just basking in it. Will be glad to take my glasses off when I finish this, because they are killing me.
I am pondering...
...peace...equality...understanding...and
not
understanding why we can't have it. Sometimes it seems we are going headlong to
Blake's 7
's corrupt Federation when we have always dreamed of Captain Kirk's ideal one...
A favorite quote for today...
"I don't care how many angels can dance on the head of a pin. It's enough to know that for some people they exist, and that they dance."
Mary Oliver
One of my favorite things...
Snowy, burbling budgie burbles behind me, chirps and cheeps all mixed up with the words he's learned: "Bad dog!" "I'm not a parrot." "What did you say?" "Bad boy!" "Good bird!" "Mama's boy." And his very favorite word: "HI!"
A few plans for the rest of the week:
Well, we have Hair Day on Saturday.
A peek into my day...
How about this? One of my favorite stories out of this year: even goldfish need love.
The story of Monstro the sad goldfish
.
If you'd like to participate, check out
The Simple Woman's Daybook
.
Labels: Simple Woman's Daybook