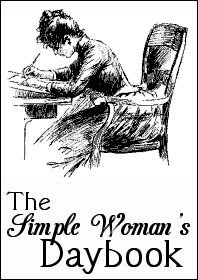 FOR TODAY, Sunday, January 19
Outside my window...
...it's dark. No time to do it during daylight, I have been quite busy all day, doing my regular Sunday chores (washing the towels, charging the flosser and the motion sensor light in the bathroom, and sorting medications for the week) and my Monday chores (cleaning the bathrooms and washing the kitchen floor), plus cooking Sunday dinner and washing the comforter for the bed and taking my usual mile-plus walk.
I am thinking...
...how fast the Christmas holidays went by! Seems like it was just December 1 and I was starting to put up the candoliers and the outside lights. I just got the last bit of the decorations (the big tree in the living room) down last Sunday. But what happened between those two times buzzed by at the speed of light! I know we did things: went to the Apple Annie craft show, watched this year's performance of "An Atlanta Christmas," had several gift exchanges, went to the Butlers' house for Christmas, and I took my annual Christmas walk in downtown Marietta. Plus we went out to celebrate "my Beatles' birthday," as Alice put it. But those swept by like the click of a finger.
I am thankful...
...for a quiet January so far.
In the kitchen...
...all is cleaned up from the dinner I cooked today: pork chops. I sauteed them in sesame oil with ginger, onion flakes, and some herbs, then finished up by poaching them in a little beef broth. Had mine with leftover rice pilaf and James had leftover spaetzle.
I am wearing...
...dark green sweatshirt, grey sweatpants, and white socks. Tomorrow I will have to put boot socks on; the low is going to be 22°F.
I am creating...
...nothing, really, since it was a work day. Well, I did create some warmth for tonight by washing the comforter. I washed it before I put it away, but we haven't used it in three or four years, and it smelled stale, and I worried that some of those stupid carpet beetles might have gotten in the bag. So I spent the afternoon washing the comforter and then running up and down the stairs restarting the dryer because a king-size comforter may be dry in one place, triggering the dryer sensor to stop, but may still be wet in other places. Had to keep pulling it out and putting it back in wet parts first so they hit the sensors.
I am going...
...to relax for the rest of the evening, I hope! I never plan on anything anymore.
I am wondering...
...if there's anything more I can do to save money. It seems to disappear so quickly, and all on things we need. I thought my spending was over for the month and here comes the bimonthly bill for the garbage collection. Sigh.
I am reading...
...in print media: Philip Pullman's
Daemon Voices
, about the craft of writing; in e-book format:
Candid Christmas
, a history of the holiday; in e-magazine format: still on the December "Good Old Days"; in magazine format: the last of the Christmas magazines, saved for last to be savored: "Early American Life Christmas."
I am hoping...
...to be okay enough tomorrow to go to the Atlanta History Center and that I can find a parking space. Tomorrow it is free for Martin Luther King Day and they have a new exhibit on Jim Crow, as well as an exhibit that is ending this month about women's suffrage. Plus they now have the Cyclorama there and I have never seen it—it used to be at Grant Park, near the zoo.
I am looking forward to...
...Anachrocon on Valentine's Day weekend. Sadly, this is the last one. I will miss my yearly dose of history panels!
I am learning...
...since I've been listening to the Colonial Williamsburg podcasts all afternoon, lots about colonial and Revolutionary War history!
Around the house...
...I've had this and that for an evening meal, and James is eating soup. There's nothing new good on television, so I have put on
The Waltons
on the Hallmark Channel.
I am pondering...
...the rest of the week. Not sure what to do if tomorrow doesn't work out.
A favorite quote for today...
"Winter is the time for comfort, for good food and warmth, for the touch of a friendly hand and for a talk beside the fire: it is the time for home."
Edith Sitwell
One of my favorite things...
"Early American Life" magazine. I must renew the subscription this year.
A few plans for the rest of the week:
Well, tomorrow, I hope. Shopping on Wednesday because James has a doctor's appointment then and is working Thursday instead.
A peek into my day...
Been listening to Colonial Williamsburg podcasts all day! So... archaeology on the site!


[Coda: Well, never did get to the History Center. About 4:10 a.m. James was having chest pains so I had to take him to the emergency room; chest pains disappeared about a half hour after he arrived. He is staying overnight so they can monitor his blood enzymes, and decide if they are going to take him for another catherization. The dye will do bad things to his kidneys, so his cardiologist has been avoiding doing this. We
were
told this morning that the blood enzymes did
not
indicate he had a heart attack, or at least that was the verdict this morning.]
If you'd like to participate, check out
The Simple Woman's Daybook
.
Labels: Simple Woman's Daybook