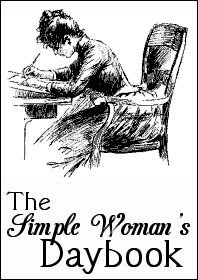 FOR TODAY, NOVEMBER 13, 2019
Outside my window...
...I am looking directly at the bird feeders and a
big
mockingbird is landing on the hanging suet cake and chasing off all the little birds. What a big bruiser he is compared to the usual crowd of titmice, chickadees, brown-headed and white-breasted nuthatches, house finches, sparrows, and downy woodpeckers. He's just a little smaller than the red-breasted woodpecker that comes by sometimes.
I am thinking...
...how nice it is for it to have gotten cold, but it's almost too cold for my poor toes. Even in boot socks they are icy. It's such good walking weather, though; you don't perspire, or feel like you want to pass out from the heat. I would have walked longer this morning but was aware how cold the pavement must have been for Tucker's little paws. His feet were cold when we arrived home and I rubbed them all before letting him upstairs.
I am thankful...
...for our Thanks Jar! It is sitting on the dining room table collecting squares of paper with things we're thankful for on them. No thanks is too small...I know I popped one that says "milk" in there.
In the kitchen...
...we did an easy dinner today: we had leftovers from the Thai place last Thursday. Mine was yummy pad thai with (non-spicy) peanut sauce and James had leftover beef-flavored noodles with ground turkey and green beans. For dessert: three dark chocolate Oreos apiece. Now we need more.
I am wearing...
...a burgundy sweatshirt, dark blue sweatpants, and red and navy blue striped grey boot socks. It was in the 20s this morning, so the socks were needed for Tucker's and my long walk.
I am creating...
...at least one Thanksgiving card; I thought I had a bunch and I only have three. I need to make at least one other or flush one up from somewhere.
I am going...
...a bit annoyed with this month. First the starter on James' truck gave up the ghost, and now one of the nose pieces on my glasses has broken off! It can't be soldered even if you could find one to do it, and I simply do not have the money for new glasses right now and don't need new lenses anyway. Is it possible they still have this frame at America's Best and I could just buy a frame?
I am wondering...
...if I should go to the Mistletoe Market at the Civic Center this weekend. I used to enjoy going in the past, and they haven't had one in a while. On the other hand I blew off the last one they did have because it's run by the Junior League and all the items for the past few years have been decidedly upscale and very expensive as compared to the simpler crafts and products they had when I first began going. I do want to stop at the Smyrna Library book sale if I can.
I am reading...
...depends on which medium! Physical book:
E.B. White: Writings from the "New Yorker", 1920s-70s
,
which I'm glad I got from a book sale for $1 because while I'm still adoring White's "turn of phrase," these are just excerpts from his columns, not complete essays as in
One Man's Meat
and
Essays of E.B. White
, so it's intensely disappointing. E-book:
Merry Midwinter
, which I'm loving; a look at all midwinter celebrations by a woman who describes herself as "a Quaker, a Theophist, and a practicing Druid." (I would have thought Quakers and Druids would be diametrically opposed, but I guess not in her case!) Magazine: Just finished "Country Sampler"'s Autumn Decorating edition. E-magazine: the October issue of "Country Living UK." I love the UK edition much more than the American magazine, as there are actually stories about
living
and
making a living in the country
in it. Imagine that.
I am hoping...
...James stays well. That's all I ever hope anymore.
I don't even dream about going on vacation any longer.
I am looking forward to...
...book sale maybe, this week's lunch (at O'Charley's), Thanksgiving coming up. Must enjoy this time with friends as James has (so far) neither Christmas nor New Year's off. This means no Christmas dinner at the Butlers and no going to Bill and Caran's party, and if he doesn't work, he doesn't get paid.
I am learning...
...or I need to learn not to look back at bad things so much. I still cry to myself about last year's car accident.
Around the house...
...James is clicking away, teleworking since the truck was broken (we could only pick it up at lunchtime today, since the mechanic closes before James gets off). Tucker is asleep on one of the dining room chairs. Snowy is chirbling to the Christmas music I have on.
I am pondering...
...these days I'm always pondering taking a nap!
A favorite quote for today...
"The maples perhaps undergo the most complete transformation of all the forest trees [in the autumn]. Their leaves fairly become luminous, as if they glowed with inward light. In October a maple-tree before your window lights up your room like a great lamp. Even on cloudy days its presence helps to dispel the gloom." . . . John Burroughs
One of my favorite things...
...Christmas music done in brass! Listening to the Canadian Brass right now.
A few plans for the rest of the week:
James goes to the nephrologist tomorrow. Hoping no surprises as creatitine is holding steady at 2.4. Maybe book sale. Lunch on Friday. Winging the rest.
A peek into my day...
How about last Saturday instead? This wonderful orange tree in the JoAnn Fabrics & Craft parking lot at Kennesaw.
If you'd like to participate, check out
The Simple Woman's Daybook
.
Labels: Simple Woman's Daybook