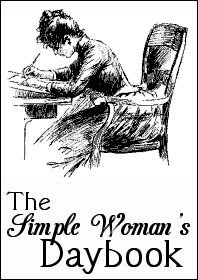 FOR TODAY, OCTOBER 30, 2019
Outside my window...
...it's grey, damp, and raining. After a horrible summer and 90°F plus temps that lasted until the second of October, it's finally down to a more manageable 60s and 70s, with blessedly cooler temps to come—the forecast for Thursday night is 38°! (Supposedly with cooler days to follow, but you never can tell with Georgia weather; we were in a drought and now we have a flood watch.)
I am thinking...
...how I need to get out of the funk I am in lately. It's left over from when it was so broilingly hot. Maybe when it gets nicely cool instead of this off-and-on warm humidity. (On the other hand, one actual good thing about summer is that the laundry basket is lighter.)
I am thankful...
...that last week the rain held off long enough for us to go to the Fall Jonquil Festival. We really needed that barbecue sauce! Too bad Meadowcroft Farms wasn't there, but they were participating in a big craft festival in Gatlinburg.
In the kitchen...
...alas, all is dark for you foodies. Since we can stay up a little later tonight since today is James' Friday, we are eating supper tonight and not dinner today. James said with the dark and the rain it is a good soup and sandwich day. Apparently it is going to rain all through the night and all the way through tomorrow, making for a very soggy Hallowe'en.
I am wearing...
...a dark blue
Owly
t-shirt and blue/grey/silver/white buffalo check lounging pants, white socks under brown scuffs.
I am creating...
...or currently arranging "the lunch bunch" for the next few weeks. We've just been going out on Fridays with friends, but James has doctors' appointments the next three Fridays in a row, so we're having to work around it.
I am going...
...to need to get working on repairing those Christmas tree lights
soon
! It's just that I have to spend some time downstairs doing it and it's kind of lonely, and I worry about Snowy getting lonely upstairs. Of course he manages fine with the television on when we go out, so part of this is all in my head. I always imagined myself going into the library to read when we moved into this house, a quiet time, but I feel lonely without Snowy and Tucker.
I am wondering...
...when it will get cold and
stay
cold. (Not
really
cold! Aaron Lawson is attending university in Wyoming and it was -14°F there this morning. That's a bit much.) 50s and cloudy is what I want. Jacket weather. No headaches from the sun and I don't have to wear my hat.
I am reading...
...
Suburban Safari
by Hannah Holmes, about a woman who is studying nature through what she can find in her back yard. She has a very small acreage with woods behind, and she isn't just observing trees, plants, insects, and animals like I do, she actually collects samples and looks at them under a microscope and talks to scientists about her little microcosm. And she has made friends with a chipmunk! It's pretty nifty.
I am hoping...
...the holidays are nice. We don't have much money, but am looking forward to little things like the craft fairs and gatherings with friends. Because we missed going to the Apple Festival this year—::sniffle:: stupid rain—we think we may try going to Christmas at Lithia again. We haven't gone to their Christmas bazaar for years; indeed we didn't even know it was still running.
I am looking forward to...
...Saturday! It's Free Electronics Recycling Day and I am looking forward to emptying all those boxes in the garage. Been going wholesale through gadgets that don't work anymore, things we no longer want, and even that big box of cables and computer parts in the garage, which has been sitting there accumulating for the last 13 years and we've never used a blessed thing in it. We'll keep some duplicate cables, a couple extra keyboards and wired mice, and toss the rest; the water heater closet can use the room.
I am learning...
...bought a magazine that came with a beginner quilling kit. Maybe will learn that.
Around the house...
...most of the windows are open, and the fans going; it's still moist and stuffy inside. James is teleworking due to the rain and industriously typing up his last call. Snowy is singing accompaniment to the instrumental Christmas cassette (Windham Hill's "The Carols of Christmas") I popped in awhile ago. I discovered that the old radio/cassette unit I used to use at work until 2013 is in perfect working order, and a good thing, because I still have 64 Christmas cassettes that have never appeared on CD or streaming (including three recorded in England) and a whole bunch of filk music tapes, and Hagood Hardy's
Anne of Green Gables
score all on cassette. And I can hear the gentle rattling of the laundry circling in the dryer through the baby monitor.
I am pondering...
...people. I am not looking forward to next year's election year. So much conflict already. Everyone fighting.
A favorite quote for today...
"And the sun took a step back, the leaves lulled themselves to sleep, and Autumn was awakened."
Raquel Franco
One of my favorite things...
...these days, that baby monitor! We bought it when my mother was ill, in her final days, so I could monitor her when she slept. After that we had no more need of it, but lately even with the door to the laundry room open downstairs and the sound echoed in the foyer, I often miss the ding of the washer and/or the dryer as they finish their cycle. I had the baby monitor pegged to do this job and searched for it for literally several years before it turned up under the towels in the hall closet. Until I cleaned in there I never realized that's where I had stored them. A good cleaning is not only good for souls, it's good for finding things!
A few plans for the rest of the week:
Grocery shopping (booooooring), lunch at Shane's barbecue, maybe a visit to Barnes & Noble, and, alas, another doctor's appointment for James.
A peek into my day...
Since I haven't done one of these in a while, I'll give you two:
It looks terribly scrawny now, but you didn't see how much these bushes out front had overgrown. You couldn't even see St. Francis and his funny cap for all the nandina fronds. Now the nandina has crew cuts, and the firecracker bush is nicely cropped to drape the net lights over.
And three cross stitch projects I did:
If you'd like to participate, check out
The Simple Woman's Daybook
.
Labels: Simple Woman's Daybook