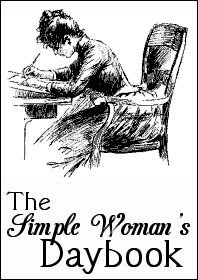 FOR TODAY, AUGUST 19, 2019
Outside my window...
...ugh, the sun has come out. The sky was covered with mackerel clouds this morning, and high clouds earlier, but now the nasty thing is out again. I like the sun in winter, when it makes things warm. I hate it in summer, when it makes things sizzle.
I am thinking...
...
still
thinking about the insect that scurried out of the sofa at me last night. I don't think I caught him; the upholstery "gives" too much. It was on the coffee table last night and I missed killing it. I hope it's not pregnant! Another reason to hate summer: no matter how clean you keep things down here and how often the exterminator comes, crawly things come through the doors. I had to stomp on a palmetto bug in the kitchen last night.
I am thankful...
...I'm done cleaning out the sofa. I vacuumed the crumbs out, sprayed it down with Lysol, and washed all the throws and the flannel fitted sheet I have as a cushion cover. That's about all I can do.
In the kitchen...
...we had the teriyaki chicken legs I cooked last week for Monday dinner, with some of all that bread we bought for Hair Day as a starch side. I just seasoned the chicken with onion and garlic powder, Litehouse salad bits, and sweet soy sauce. It came out pretty well.
I am wearing...
...blue and white flowered top, black shorts, and white socks.
I am creating...
...a watercolor head portrait of a collie on a black watercolor paper card. I'm sending it as a thank you note to someone.
I am going...
...to have to go to the post office to mail the card because it's going to Canada.
I am wondering...
...if I'll ever get rid of these awful dreams about having to get up again and go to work!
I am reading...
...dead tree or electronic? 😀 Magazine: the June "Early American Life." Real book: um,
Off the Map
(about the history of maps and about whomever draws them then making the rules and the names) and
About Time: The Unauthorized Guide to Doctor Who
, volume nine. Oh, and I've started
Bonzo's War
about pets in Great Britain during World War II. E-magazine: the August issue of the British edition of "Country Living." E-book: the second horseshoer mystery,
Dead Blow
.
I am hoping...
...not to get stressed over upcoming things. Like DragonCon. I want to go, but looking forward to it always stresses me out. I wish we could afford a pet-friendly hotel downtown!
I am looking forward to...
...DragonCon, but
really looking forward to
AUTUMN
!!!!!!! Summer sucks so much. The sun gives me migraines and rashes, the heat makes me ill, the flowers make me sneeze.
I am learning...
...LOL, judging by the card I made, watercolor painting still...and very slowly.
Around the house...
...behind me James is teleworking and he's on the phone right now. I'm listening to Saturday's "The Tech Guy" podcast at a very low volume. Most interesting question: a guy hopes to work his Mom's TV (she's in California, he's in Washington) remote, because she had a stroke and can't use the remote. I wonder if something like an Echo Dot or Google Home could do that. We're supposed to be able to give the Dot instructions and it will give commands to the TV.
I am pondering...
...why people enjoy summer when all it is is swelter and sweat and sun.
A favorite quote for today...
I found this looking for quotes about hating summer:
"It was one of those sweltering summer days in which the air itself seems to decline as a haze suffocates the outside world. It is painfully bright whether you are looking up at that ball of burning hydrogen or down at its vivid reflection on sheer pavement."
Moonshine Noire
One of my favorite things...
...I'm sitting watching it: the "Tech Guy" podcast. Snowy loves listening to Leo!
A few plans for the rest of the week:
Work for James. Hoping there are good BOGOs on Wednesday. Chilling out before the chaos that is DragonCon.
A peek into my day...
Snowy, as if he's chirbling to Leo LaPorte.
If you'd like to participate, check out
The Simple Woman's Daybook
.
Labels: Simple Woman's Daybook