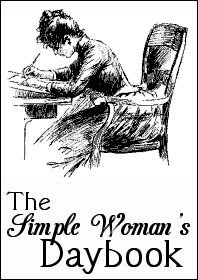 FOR TODAY, JANUARY 15, 2019
Outside my window...
...it is, amazingly, sunny. We have had so much rain over the last eight weeks. Before Thanksgiving, James got cut down to 24 hours per week until the end of 2018, and we planned to have little "mini-vacations" on the Thursdays and Fridays he was off. The only mini-vacation we got was the Friday we went to Apple Annie together; otherwise all it has done on Thursday and Friday is rain, which meant we couldn't go anywhere but the supermarkets or Costco and Sam's Club because they have little shopping carts, since he's not supposed to take the power chair out in the rain. It was quite annoying! Of course now that he is working full weeks again, it is raining on the weekends. Last year was such a bad year for us that I hoped we could do some happy things in December, but it was not to be.
I am thinking...
...how quickly Advent and Christmastide went by this year. I started putting up decorations on December 2 and only took them down last week, but it seems as if time just zipped by and I had no time to enjoy them, even though I didn't have to go into work two days a week. I skipped several Christmas favorites I usually watch as well. I thought now that I was not working that I would have hours to savor the lights and the music and the stories, but somehow that didn't happen. It went by in the flash of an eye, now that I look back on it, as if I were watching it and not participating. But at the same time we had a great time: I've talked about some of it in "Holiday Harbour," and after Christmas we enjoyed the turkey leftovers, went to Bill and Caran's New Year's Eve party (it was raining...go figure!), and had our usual Twelfth Night party only ten days ago.
I am thankful...
...well, James was thankful he had no doctor's appointments in December, so I was, too. Crossing fingers he will not need a doctor except for his regular appointments. We indulged at Christmas, but as mindfully as we could, and I am actually very glad to get back to nice, plain food again rather than the Christmas treats we were sampling. On the other hand, I miss the wine biscuits. I finished them on Monday. 😊
In the kitchen...
...quiet now. Later I will cook some spaghetti to go with the leftover chicken cacciatore we are having for supper tonight.
I am wearing...
...a forest-green sweatshirt and dark grey sweatpants. I also put my boot socks on today, as it was in the thirties this morning. I will need them next week as the morning temp is supposed to be 18℉ on Monday. That is positively polar for Georgia.
I am creating...
...I'm still creating order. I doubt I will go "all Marie Kondo," especially on her attitude to books (I understand she says you should have no more than 30 books in the house?
quelle horreur!
), but I do want to continue decluttering. I do indeed have things I do not love in the house and I am going to donate them to someone who will. I've already decided to cut down on some of our party supplies. We received something as a wedding gift, for instance, that's been sitting in a closet for 28 years. We also have some very heavy glass bowls. They both are going. I have no anticipation of ever using the aforementioned wedding gift and the glass bowls are so heavy it makes it difficult for James to get them back in the closet. I have other bowls we can use instead that are not hard for him to manage. I will keep the chip and dip/salad bowl, and we need to use that.
I am going...
...to be looking into smaller decluttering jobs this year. Last year I moved great swaths of things out of closets (and the kitchen pantry) and now I'm going to concentrate on smaller items that need sorting or fixing. Today, for instance, I cleared out under the china cabinet. There were three mugs there I really didn't like due to the color, and something I bought on clearance for a couple of bucks that was silly and I never used. I also tossed out a tin of Christmas candy. James can't eat it, I never had more than three or four pieces a season, and I just bought it for the nostalgia factor: there were always bowls of multicolor, multishaped Christmas candy out at my relatives' homes at Christmastime. But having the candy doesn't recreate the feeling, so it needs to go.
I am wondering...
...(still wondering!) where December went! I keep wanting to turn and look at the tree in the corner.
I am reading...
...the latest Bryant and May mystery,
Hall of Mirrors
, which is a flashback to the late 1960s. I can't say I'm enjoying the 1960s any more reading about it than I did living through it. I didn't like the fashions (especially those awful miniskirts I had to wear) or the music or the drug culture.
I am hoping...
...to go to the grand opening of Lidl tomorrow. We have our first Lidl (which has been described by our infamous consumer advisor Clark Howard as "an upscale Aldi") opening on January 16. We get another, on Floyd Road, in February.
I am looking forward to...
...oh, I dunno.
Maybe a weekend without rain so we can go to McKay's in Chattanooga? Maybe? Please?
I am learning...
...patience from this
meshuggeneh
weather! But damn, I had hoped to go up there before Christmas.
Around the house...
...Snowy is relaxing, and Tucker has gone back into his "cave" under the dining room table after having gone on a fifteen minute walk. I scrubbed the bathrooms and washed the kitchen floor and vacuumed yesterday, so today I have just done little things (also having discovered that our USB floppy drive reader no longer works). I'm listening to an episode of "A Way With Words."
I am pondering...
...what to work on next.
A favorite quote for today...
I love autumn and winter, so this is particularly apt, as the wind is high today and even though it is sunny, it is nice and chilly.
"In winter, the stars seem to have rekindled their fires, the moon achieves a fuller triumph, and the heavens wear a look of a more exalted simplicity."
. . . John Burroughs
One of my favorite things...
...finding open space now that I've donated some things, or thrown some things away!
A few plans for the rest of the week:
Going to Lidl, maybe a trip to Walmart or to Staples.
A peek into my day...
Since Christmas is over ::sob!::, the mantel is back to normal.
If you'd like to participate, check out
The Simple Woman's Daybook
.
Labels: Simple Woman's Daybook