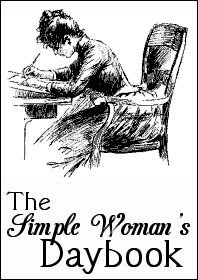 FOR TODAY, MONDAY, NOVEMBER 26, 2018
Outside my window...
...it's dark, and, based on the weather report that aired several hours ago, very cold. We are supposed to go down to 28℉ tonight. It's going to be very cold the next few days, but then warmer and wetter on the weekend.
I am thinking...
...that it was a rather unexpected day. Monday is my usual housecleaning day, and I accomplished that: washing of both bathrooms and the sweeping and washing of the kitchen floor. I also organized some things in my craft room. Since I knew it would be very cold the next few days, between the bathroom cleanings I went outside and removed the Thanksgiving decorations from the porch and removed the Thanksgiving cover from the mailbox, to be replaced by the Christmas cover. I put the new flag up, and the wreath as well. However, when I walked the dog, I noticed the bushes would be much too scruffy to put lights on. So I pulled out my trusty hedge clipper and clipped. Definitely unplanned. As was what happened as I was doing it (see below).
I am thankful...
...for many things. We decanted the "thanks jar" tonight and had a tidy pile, from simple things like "gingerbread" to more sober things like "sunrises and sunsets" and "no more dialysis."
In the kitchen...
...supper is long cleared away. We had leftover ham and mushroom rice for supper.
I am wearing...
...a purple sweatshirt and blue sweatpants, and white socks. Tomorrow I will need to wear long stockings!
I am creating...
...I have a gift in the works for a friend if I can find a part for it.
I am going...
...to have to go out in the cold tomorrow, as I need to exchange something. I'll try to make it a pleasurable trip. And wear a heavier coat! 😀
I am wondering...
...what to do next. I've never had this leisure previously; I've always had to decorate at lunch time and during breaks and after work. I do have to put the Thanksgiving things away first!
I am reading...
...two different books about Advent. One began on the first of November, and the other on the 21st, so right now I'm just catching up.
I am hoping...
...we will have a good Christmas, despite James' diminished pay, and a better 2019. I have bought a new journal with hope in my heart.
I am looking forward to...
...all the goodness of December: Apple Annie crafts and the Mable House craft show, and perhaps the ARTC performance; baking for Christmas and dinner with friends.
I am learning...
...I would
like
to learn how to do minor electrical things, like install dimmer switches.
Around the house...
...watching the news after having finished watching the new
Good Eats Reloaded
and my new favorite show,
Caught in Providence
, about Providence Traffic Court.
I am pondering...
...why people get addicted to drugs. I keep seeing more and more commercials for getting help for opiod addictions. If you use opiods for legitimate pain, you aren't addicted, so why would you take medication if you didn't have pain? I hate taking medicine and wish I didn't have to, and don't understand why you would do it for pleasure. There are so many other wonderful things to do.
A favorite quote for today...
"Be thankful for what you have; you'll end up having more. If you concentrate on what you don't have, you will never, ever have enough." – Oprah Winfrey
One of my favorite things...
...as I said, one of my new favorite things is
Caught in Providence
. Very funny and sweet sometimes. If it is syndicated in your area, try and catch it someday.
A few plans for the rest of the week:
Christmas decorations, a Goodwill donation (running out of time for this year!), maybe a bookstore run.
A peek into my day...
So as I am trimming the nandina so St. Francis can be seen again, I pull away the branches to discover his face has fallen off! The concrete head split from ear to ear, and his face was resting "face up" in a tangle of branches. The head was cracked so I guess some water got inside and split it. So now St. Francis has a cap of duck tape to keep his face "face front."
If you'd like to participate, check out
The Simple Woman's Daybook
.
Labels: Simple Woman's Daybook