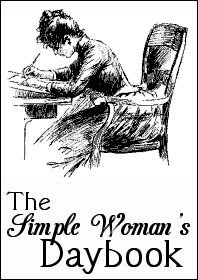 FOR TODAY, JULY 10, 2018
Outside my window...
...still sunny at quarter to seven, and hot, 89℉. I do hate daylight saving time. I want it to be all cozy and at least getting close to sunset by the time we finish dinner, not bright and sweltering.
I am thinking...
...that I'm sad that Ikea is cheaping out lately. Part of our home is furnished with Ikea, and they've quit making what we thought was the nice stuff and they're going back to all that ugly 60s stuff. Plus the "lock screws" on the Billy bookcases are now made with plastic rather than metal.
I am thankful...
...I have finished assembling the bookcases I bought!
In the kitchen...
...James made Trader Joe's chicken and apple sausage for supper tonight, with a side of three-cheese potatoes. It's about time to start up the dishwasher again.
I am wearing...
...a blue-flowered white ribbed tank top, aqua colored shorts, and white socks.
I am creating...
...more space for books down in the library. On Sunday at Ikea I bought a
short wide Billy
(30" wide),
a short narrow Billy
(15" wide), and
a Gnedby
(technically a CD shelf). I assembled them all today and stocked the wide Billy with my linguistics books. The place where they were can take my overflowing history books. I had several ideas for the Gnedby, but am probably going to move my paperback young adult books (like L.M. Montgomery) there. Then my mystery books, which are also overflowing, can overflow around the corner to that spot. Not sure what's going in the narrow Billy, perhaps my books about books (
Murder Ink
, the Dorling-Kindersley book about Sherlock Holmes,
Heidi's Alp
, etc.). There's also another bookcase that most of the books in it will be recycled. James' "Backwoods Home" magazines are in it, but it can fit other stuff.
I am going...
...to continue on the library project tomorrow morning, at least that's the plan. In the afternoon, I have to go with James to the nephrologist.
I am wondering...
...how I got all this stuff done before I retired! Well, because
it didn't get done
. That's why everything's in a mess.
I am reading...
...
Edward and Alexandra
, about the lives of Edward VII of England and his wife, the Princess Alexandra of Denmark. I've always thought "Bertie" got a bad rap from his mother Queen Victoria; he was too much like her before she became besotted with Prince Albert. Maybe if she had given him some responsibility, he wouldn't have gotten involved in all the scandals he ended up in the middle of.
I am hoping...
...things will continue to go well for James. I worry so much about him, and about the upcoming surgery, but he needs to have that Foley catheter gone. It is so much trouble and we can't seem to keep him in Statlock holders.
I am looking forward to...
...working more on the library project. I still have to get rid of all my flowers from work. I don't actually want them, but they do hold nice memories, so it's hard.
I am learning...
...that there still aren't enough hours in the day to do all the things I want to do!
Around the house...
...James is in the recliner, Tucker has dragged his blanket at James' feet to sleep, and Snowy is budgie-burbling quietly in the background. I'm about to change the channel to watch something on PBS.
I am pondering...
...the wonder that is the rescue of the Thai boys and their coach. We have been following that closely. So glad they were able to be rescued!
A favorite quote for today...
"The best moments in reading are when you come across something – a thought, a feeling, a way of looking at things – which you had thought special and particular to you. Now here it is, set down by someone else, a person you have never met, someone even who is long dead. And it is as if a hand has come out and taken yours." ― Alan Bennett
One of my favorite things...
...coming up this weekend, the Hallmark Ornament Premiere!
A few plans for the rest of the week:
Going with James to the doctor tomorrow, I hope more work on the library, Ornament Premiere on Saturday.
A peek into my day...
LOL. Just click on the links to the bookcases! That was my day!
If you'd like to participate, check out
The Simple Woman's Daybook
.
Labels: Simple Woman's Daybook