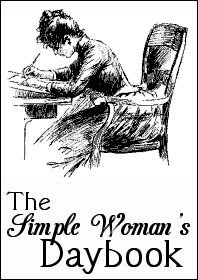 FOR TODAY, JUNE 22, 2018
Outside my window...
...partly cloudy and otherwise very green. Summer is here in full force. I wouldn't mind if that meant warm days and cool breezes. But when it goes up to 90°F plus, that isn't summer, it's Hell. I miss June in Rhode Island; it used to be very civilized. However today it is nearly 80 up there. Not much better.
I am thinking...
...that I'd like to have a mandarin orange, so that's what I'm going to do. 😊
I am thankful...
...that James is feeling better, though he's still having side-effects from the UTI he had. He will be going for a test on Monday, so we can discuss with the doctor then. In the meantime, if we can get through the rest of the afternoon, he will have worked 40 hours. He does that so rarely anymore.
In the kitchen...
...it's reasonably clean. The dishwasher is open to dry the dishes I washed this morning, and there are a few lunch things in the dishpan. Nothing defrosting this afternoon as we usually go out on Fridays. Tonight we have an O'Charley's coupon we want to use.
I am wearing...
...grey shorts, pink-flower dotted tank top, white socks and beige scuffs. It's the only way to be really cool.
I am creating...
...I've begun the long process of finally updating my web pages. By the time I got done with work the last few years, I didn't want to sit at a computer anymore. I'm just going to take it slow and do things when I feel like it.
I am going...
...to keep wishing that life stays boring. If that means no pleasant surprises, so be it. I am tired of the nasty surprises.
I am wondering...
...how James' tests are going to come out. I hope there is a positive enough response that we can go on to the next step. While this won't be pleasant for James, it would mean that eventually he would not need a Foley catheter.
I am reading...
...a great book called
On Trails
, which is ostensibly about hiking the Appalachian Trail but is also about trails in general and how they form: animal trails and human trails alike. I love it; the scientific bits about trails are fascinating and so are the stories of hiking the Trail.
I am hoping...
...that bills will quit coming and I can actually have money left over from my check! Now I have to pay the dialysis bill and the bill for my new eyeglasses. That pretty much wipes out a whole check.
I am looking forward to...
...Hair Day on Saturday. The last time we were able to get together with everyone we couldn't stay long because of the stupid catheter falling out. No fun spending time at Urgent Care rather than with your friends.
I am learning...
...well, I figured out how to make a permanent link on my FTP software to upload my web pages. It quit working about the time we had the broadband put in, but it was not the broadband. I had to call tech support and they walked me through making a connection, but I had to figure out what it was actually doing so I could make the permanent link.
Around the house...
...James is teleworking today because it's supposed to pour about the time he usually gets out of work, so he's hitched up next to me at a portable desk. At my left Snowy is singing because I'm playing the Leo Laporte podcast. Tucker is asleep under the dining room table. When I finish this I'm going to take him out to the mailbox.
I am pondering...
...what to clean next. I know what I really need to do is in the kitchen, but it's kind of a grimy job and I really don't want to do it. Yeah, poor me. I'll get to it eventually.
A favorite quote for today...
Since it's now the horrid season of sweaty, sweltering, simmering, smelly summer, here's a nice fall quotation!
"I was drinking in the surroundings: air so crisp you could snap it with your fingers and greens in every lush shade imaginable offset by autumnal flashes of red and yellow."
― Wendy Delsol,
Stork
One of my favorite things...
...I'm listening to it! Leo Laporte, "The Tech Guy." Fun tech tips but too many sad stories about losing all your files or your photos. People! Back up your files! Back up your phone camera photos! Don't lose this stuff!
A few plans for the rest of the week:
Hair Day is Saturday. I am still on the fence about getting my hair cut (don't know which style; don't want a haircut that's "work" and don't want to have to put any "goop" (hair spray or...ugh...mousse) in it), but James needs his done. We are bringing rice to go with Shannon's chicken.
A peek into my day...
A cuteness of Snowy!
If you'd like to participate, check out
The Simple Woman's Daybook
.