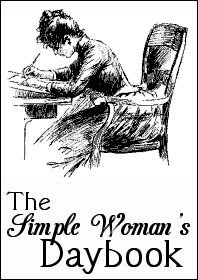 FOR TODAY, APRIL 27, 2018
Outside my window...
...it's sunny and the trees are bright green, now fully leafed out. The wind tosses them today like hula dancers swaying back and forth.
I am thinking...
...that this is much preferable to the Friday of two weeks ago when James was getting fluid removed from his left lung via a needle.
I am thankful...
...that James is not getting fluid removed from his left lung via a needle today.
In the kitchen...
...it's actually kind of tidy, except for the plastic leftover containers that need to be put up. Dirty dishes are in the dishwasher, I've put the groceries I bought from Walmart earlier today away, and I even cleaned off three of the four shelves in the main compartment of the refrigerator. (The top shelf is cluttered with sauces and finishing sauces and jellies. It's not a job for today.)
I am wearing...
....a pale green duster with a strawberry print and red piping, and white socks. It's perfect for sitting on the sofa watching
Rick Steves' Europe.
I am creating...
...this morning, for no reason but "because," I sat down at my drafting table and did a watercolor of a collie's head. Came out pretty bad, but it was creative input.
I am going...
...to fall asleep if I don't watch out. I got woken up early by the lawn guys, who this morning turned out to be the lawn gals. Have no idea what happened to Alex and Francisco.
I am wondering...
...if something will work out for James. We are keeping a low profile in case it doesn't happen. He is proceeding further on the prostate problem. They are supposed to give him another bladder test, and then we will see if he can have what they call a TURP. You can look that up for yourself. Yes, it will be painful, but once he's done the foley can go away.
I am reading...
...
C.S. Lewis and Narnia for Dummies
, which I got for a buck. Pretty interesting. The end of the book also covers Lewis' other writing.
I am hoping...
...we can attend the Spring Jonquil Festival this weekend and also go to Jake Skidmore's birthday dinner. James deserves a little fun.
I am looking forward to...
...WHOlanta and the new essay book
Children of Time: The Companions of Doctor Who
!
I am learning...
...these days it seems to be practical nursing and minor hairdressing skills.
Around the house...
...Snowy is singing, they're showing Glastonbury on
Rick Steves' Europe
, Tucker is asleep, and we're all awaiting James home from Friday dialysis.
I am pondering...
...the road not taken. So far this year has really thrown us some surprises although we have been trying hard to be good.
A favorite quote for today...
"Good things can come from unexpected places."
What I hate is the
bad
things that keep coming from unexpected places, thankyouverymuch.
One of my favorite things...
...the English countryside, which is what I'm watching right now on another Rick Steves' special. I'm also loving
Penelope Keith's Hidden Villages
. God, it's so lovely!
A few plans for the rest of the week:
Poetically: the Jonquil Festival. Prosaically: a trip to Costco for toilet paper.
A peek into my day...
How about a watercolor collie?
If you'd like to participate, check out
The Simple Woman's Daybook
.
Labels: Simple Woman's Daybook