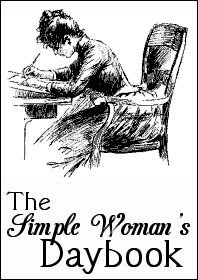 FOR TODAY, FEBRUARY 28, 2018
Outside my window...
...gloomy. It's raining again, and will rain more tomorrow, and they're talking about thunderstorms, so I guess March is coming in like a lion.
I am thinking...
...that it is exactly one month ago I retired. Not only am I not bored yet, but the days are just whizzing by because I've been keeping busy. Since a house never runs out of things to be cleaned, I shouldn't ever be bored!
I am thankful...
...that I am retired, because people are getting crazier on the road every day. The other day I was running an errand and switched into the left lane preparatory to making a left turn. Someone whizzed past me on the right, and then someone else passed me using the turn lane! A friend of ours got hit by an eighteen-wheeler yesterday; she is fine, thank goodness, but her car is totalled and the truck driver never stopped.
In the kitchen...
...James has finally knocked off work (he's working at home due to the rain) and is making a quick dinner: thin steaks and some mushroom rice (because mushroom rice goes with everything).
I am wearing...
...chiefly blue "Mutts" comic strip pajamas and a flannel shirt because it's a little chilly. I'm so happy because it has gotten cooler again after over a week of temperatures in the 70s. I managed to keep the house reasonably cool by judicious use of fans; luckily I am home now so I can open windows and curtains to the breeze but close them again when the sun swings around. (I don't understand how people have homes without curtains! Their air conditioning bills must be frightening!)
I am creating...
...well, since like King Canute couldn't stop the tide from coming in, I cannot keep spring from coming, I had to get to work today on a reworked wreath (I say "reworked" because the base grapevine wreath is the same) for the front door. I have to redo the wreaths every few years because the house faces west and the hot Georgia sun just dessicates and fades the flowers and leaves. Then I realized that the blue and purple pansies that were in the little tin bucket on the porch with the wreath would no longer match the orange daisies and pink and green blossoms on the wreath, so it was off to Michael's. The results are below!
I am going...
...to need to get back to work. Not sure how to tackle the spare room closet, which holds gifts, wrapping paper, party stuff, a box of fabric, gift bags, old con programs, bed wedgies, vaporizers, stashed dog toys, and God only knows what else. They all need to stay in there, too, but there's got to be a better way to arrange everything. It practically tries to leap out of the closet at you.
I am wondering...
...if we are going to have a bad summer or a good summer. It would be nice to keep temperatures out of the 90s, but I'm sure that's a forlorn hope. At least I don't have to go out if I don't want to.
I am reading...
...Paper book:
Murder in Morningside Heights
. Magazine: "Smoky Mountain Living." E-Book:
Apollo 8
. E-Magazine: "The Simple Things."
I am hoping...
...we can reschedule or trip to Chattanooga. I'm still afraid of going anywhere long-distance. James says I need to get "back on the horse."
I am looking forward to...
...Atomicon! Dreaming about game playing, chatting, delicious food, and mountain drives!
I am learning...
...well, all the stuff on the Barnes & Noble clearance tables were $2. I bought several nice gift, plus a book for me about digital photography.
Around the house...
...just about to watch
Jeopardy
, Snowy is calling, Tucker is eating, and James is asleep in the recliner. F Troop back to normal, sir.
I am pondering...
...people who are so angry they will shoot up a venue. What would make them so angry? Do we set too high standards on life today?—fabulously sexy, have all the gadgets, keep up with the Joneses, luck into a good-paying job and a beautiful home and a cool car all at once.
A favorite quote for today...
"Surely everyone is aware of the divine pleasures which attend a wintry fireside; candles at four o'clock, warm hearthrugs, tea, a fair tea-maker, shutters closed, curtains flowing in ample draperies to the floor, whilst the wind and rain are raging audibly without."
― Thomas de Quincey
One of my favorite things...
...is coming on Friday!
Masterchef Junior
is back! One of the children is an orphan; his parents died not long ago in a murder-suicide. I hope he has someone to lift him up. What a terribly sad thing to have to endure as a child.
A few plans for the rest of the week:
A trip to the bank to take care of business.
A peek into my day...
The door wreath and the tin bucket bouquet:
If you'd like to participate, check out
The Simple Woman's Daybook
.
Labels: Simple Woman's Daybook