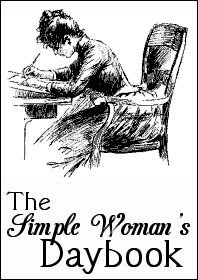 FOR TODAY, JANUARY 18, 2018
Outside my window...
...it's dark and cold. We've had a real cold snap here, with nightly temperatures in the teens. These temps for this long are unheard of in Georgia. Several of the newscasters who have been here for years say this is the longest cold spell they can recall. The temperature itself has been colder; that's why we had a pipe freeze in the old house, because it went down to 8℉, but it's never remained cold this long.
I am thinking...
...it is less than two weeks until I retire! I've been looking forward to this for
years
, but the thought is still overwhelming. And I have so much to do! I still have to return my monitor and have a photo taken and clean out my cubicle...
I am thankful...
...I am finally done taking down the Christmas decorations (well, okay, there are a few thing up in the hall bath; they just have to be stuffed in a bag)! This would have been mostly taken care of last weekend, but we were getting the new truck together instead. We were even working on truck problems on Monday and Tuesday. It does have a jack again, but we would have to go back to the place where they fixed the door hinge to get the left speaker re-connected. The car dealership suspects that it got disconnected when they repaired the hinge. Then on Tuesday we had to take the truck up to the hitch place to get a trailer hitch put on, and they had it finished so late that we
just
made it to Mobility Works in time to get the lift ordered. So all I have been doing in spare minutes in the past two days is remove decorations. I got the tree downstairs and covered up today. One box is still upstairs; it has the Christmas village, is big, and I need help with it.
In the kitchen...
...we had Trader Joe's chicken apple sausages and air fried potatoes for supper. The air fryer works pretty well in the oven. I love that stove!
I am wearing...
...a purple sweatshirt, grey sweatpants, and blue-and-brown speckled oatmeal-colored socks.
I am creating...
...order out of chaos, I hope. While the Christmas items are all down, the boxes are not put away. And only a few of the winter things are out. But hopefully time will take care of that.
I am going...
...to look at my winter things carefully to see if I can cull any. The things that are on the porch are about shot, and the silver snowflake garland is tarnishing.
I am wondering...
...about major things and minor things. I don't want to discuss the major things, so I'll list some of the minor: I wonder when
Master Chef Junior
will begin airing again.
I am reading...
...
World War II Rhode Island
. It's a bit dry, but I'm learning a lot of things I never knew before.
I am hoping...
...the chair lift comes in for the power chair soon and we can have it installed. James' boss has been very patient in allowing him to work at home. They are not supposed to telework so often. On the other hand, he gets a lot more work done here!
I am looking forward to...
...well, I was looking forward to games night on Saturday, but one of our hosts has had to cancel on account of the flu. I hope she is okay soon! The flu sucks. And James says we
will
make our trip to Chattanooga.
Around the house...
...watching Miss Marple until the news comes on. I'm not really a Miss Marple fan, but it's better than these irritating survival shows. I have put all the autumn-themed items back up in the living room (except the ginger jar with the Chinese lanterns and cattails in it because there are still gifts on the hearth). At Christmas I have to shift the clock to the bookcase, so now I have to get used to looking back on the mantelpiece for the time.
I am pondering...
...how stupid you have to be to take a dare to eat a Tide pod. Just writing about it is disgusting. And just how late our mail carrier is coming. We go out there about six o'clock and there's
still
no mail, but it's out there at nine when I walk the dog. It's really quite irritating. Plus I keep forgetting to check the mailbox when I walk the dog.
A favorite quote for today...
"Winter is the time for comfort, for good food and warmth, for the touch of a friendly hand and for a talk beside the fire: it is the time for home."
― Edith Sitwell
One of my favorite things...
I love my Christmas decorations, but it is always good when the standard fall things are back on the mantelpiece. I love the little fall trees and cabins and figures bookending the Lord and Lady mug and the autumn harvest ladies, with Mother's old Remington clock in the middle and the tangle of autumn flowers and leaves behind it. It's very comforting.
A few plans for the rest of the week:
I need to take James to the doctor to get checked tomorrow. Since we don't have to be anywhere Saturday night, perhaps we can take the truck to get the speakers checked on Saturday morning.
A peek into my day...
Oh, heavens, no. Everything is still a mess: Christmas village still in a box in the middle of the living room floor, and gifts on the hearth bricks, nothing vacuumed...
If you'd like to participate, check out
The Simple Woman's Daybook
.
Labels: Simple Woman's Daybook