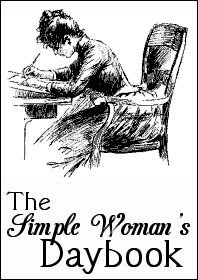 FOR TODAY, OCTOBER 26, 2017
Outside my window...
...dusk is falling and the crickets are sawing out their song and it's cool enough to have the door and windows open.
I am thinking...
...Monday's appointment was a real anticlimax. We went there prepared to make a date for vascular surgery for James to get a fistula inserted in preparation for having kidney dialysis. But the vascular surgeon says he doesn't recommend surgery until six months after a heart attack because of the danger of another heart attack. Well...talk about being yanked to a halt. I guess James needs to just keep eating the kidney-friendly foods and we need to watch out for bad signs like fluid retention.
I am thankful...
...the workweek is over for me. I am taking tomorrow off to go to the Friends of the Library book sale. It's usually earlier, but it's being held in a different venue tomorrow because they are remodeling the usual venue.
In the kitchen...
...we have a new garbage disposal. The old one began leaking on Wednesday. The plumber was telling me you should never put coffee grounds down it. It gums up the pipes. Other bad things are eggshells (who knew?) and chicken skin.
I am wearing...
...my light blue "Owly" t-shirt and blue scrubs and white socks.
I am creating...
...a blog entry. Not been creating too much the last few days; too worried about James.
I am going...
...to get to sleep in a little tomorrow! Remember when you hated to take a nap? Now sleeping is a reward!
I am wondering...
...if we can ever feel safe again...
I am reading...
...the second "Dr. Watson thriller,"
The Dead Can Wait
.
I am hoping...
...for some kind of turnaround for James. I wish God would let that cup pass him by.
I am looking forward to...
...the book sale and finally seeing the newly remodeled Cobb County Civic Center. They worked on it for years! And the Fall Jonquil Festival, although we're going to have to go Sunday. Saturday looks to be
tres
rainy.
I am learning...
...LOL, about garbage disposals!
Around the house...
...I also stripped the bed and changed it. It will be nice sleeping in fresh sheets tonight. I even washed the comforter.
I am pondering...
...health...illness...autumn...happiness...
A favorite quote for today...
"The autumn wind is a pirate. Blustering in from sea with a rollicking song he sweeps along swaggering boisterously. His face is weather beaten, he wears a hooded sash with a silver hat about his head... The autumn wind is a Raider, pillaging just for fun." . . . . . Steve Sabol
One of my favorite things...
Aerial America
on the Smithsonian Channel. Tonight we are watching Texas. Later on, it's time for
The Orville
, our new Thursday "must see TV."
A few plans for the rest of the week:
Book Sale. Fall Jonquil Festival. With, as Mom always said, the help of God and a few policemen.
A peek into my day...
...bought this cutie at Hobby Lobby last weekend!
If you'd like to participate, check out
The Simple Woman's Daybook
.
Labels: Simple Woman's Daybook