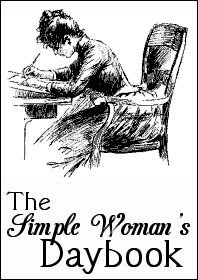 FOR TODAY, SEPTEMBER 12, 2017
Outside my window...
...it is grey and rainy-looking, but not the lowered-cloud darkness of yesterday. Irma passed through here in a gentle fashion, just lots of rain (which depressed the dog) sometimes driven down the street by the wind, and a few tossing branches. A couple of power flickers, nothing went out, and we were safe and cozy teleworking inside. I see dry spots appearing on the street already. I have put the chairs and table back on the porch and put out the fall banner, wreath, and basket, and our "guard sheep," Ivy, is back in her place under the table.
I am thinking...
...of a nap! Really, I have not been sleeping because of anxiety and this rash I have. This means back to the doctor.
I am thankful...
...for little damage after the beating Hurricane Irma gave some of those Caribbean islands and Key West. All my friends in Florida are safe, and I think of friends and family in Georgia the only thing that happened is that some lost power.
In the kitchen...
...James just warmed himself up some turkey for lunch. I'm ravenous now.
I am wearing...
...a black sweatshirt which says "Bibliovore" and cheap sky blue scrub pants.
I am creating...
...or just finished creating, a little "Country Pick'ns" vignette I picked up at the Yellow Daisy Festival on Sunday. Photo is below.
I am going...
...crazy being itchy. Stupid rash. I can't even do housework because even a hint of perspiration makes it worse.
I am wondering...
...if there is anything, anything else I can do to keep from going to the doctor, but I've tried everything already. Bother.
I am reading...
...
Pioneer Girl Perspectives
, which are essays written about Laura Ingalls Wilder's original memoir
Pioneer Girl
, which was finally published with copious footnotes awhile back. Subjects include how Laura made her little house years sound so safe and warm without touching on the more frightening parts of frontier living—like almost being assaulted by an alcoholic neighbor whose wife she was helping to care for—and how the "Little House" books are so anti-Government even though the Ingalls family accepted government assistance.
I am hoping...
...there will at least be a
breeze
Saturday when we go to Taste of Smyrna.
I am looking forward to...
...Taste of Smyrna! More drunken pork! And Thai chicken. And maybe barbecue.
I am learning...
...to be more self-sufficient, since there are so many things James can't do anymore. But...scary...what happens if
I
can't do them?
Around the house...
...it's a mess. As I said, the rash gets worse if I perspire, so I can't do anything useful, like wash the floors or vacuum; that's what set this off last week, as I did both last Tuesday.
I am pondering...
...a nap. It would be so nice right now.
A favorite quote for today...
"By all these lovely tokens,
September days are here,
With summer's best of weather,
And autumn's best of cheer."
. . . . Helen Hunt Jackson
One of my favorite things...
...the spaghetti sauce I made last week, which we'll have part of for supper tonight. Comfort food.
A few plans for the rest of the week:
We are planning to attend Taste of Smyrna and also see a Beatles tribute band with friends. I don't particularly like the Beatles, but it's with friends and I hope it will cheer James up.
A peek into my day...
If you'd like to participate, check out
The Simple Woman's Daybook
.
Labels: Simple Woman's Daybook