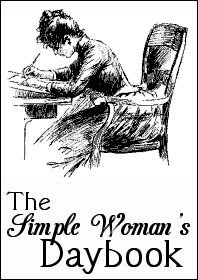 FOR TODAY, AUGUST 1, 2017
Outside my window...
...sunny as I am doing this rather late in the afternoon rather than in the morning as usual. It's warm outside and cool within.
I am thinking...
...that it took me too long today to figure out why I kept looking at the calendar and wondering why the date was familiar. It is 32 years ago today that my dad died.
I am thankful...
...for air conditioning (this is my mantra during the summer). Also for the laundry being finished.
In the kitchen...
...I'm cooking chicken drumsticks basted in maple barbecue sauce. Well, they smell good. 😀
I am wearing...
...a blue-flowered ribbed tank top, aqua blue shorts, and white socks, in other words, the usual summer mufti; just the colors of the top and shorts change.
I am creating...
...order out of chaos, slowly. I have some things ready to go to Goodwill, and another box started for more culled books. There's no use keeping books I won't read again.
I am going...
...to have to start better grocery shopping if I intend to retire. We are spending too much on groceries! I'll need to start perusing the weekly flyers and finding the best bargains.
I am wondering...
...why the news programs just keep repeating the same news over and over and over. If there isn't enough news to broadcast, cut the length of the news programs! I remember when both the local and national news programs were fifteen minutes. Somehow they managed to cover it all and didn't have to make their own news.
I am reading...
...
Brilliant Beacons
, the history of lighthouses in America. I've always been fascinated by lighthouse keepers and their families after reading a story called "Maudie Tom, Jockey," about a lighthouse keeper's daughter. Their work was back-breaking and some lighthouses were so isolated the keepers went stir-crazy.
I am hoping...
...the decision I'm pondering on is the right one.
I am looking forward to...
...the eclipse! We will have 97 percent coverage here in Atlanta. Some of the schools are keeping the kids in longer that day so they can observe the eclipse safely (teachers making sure they have their glasses on).
I am learning...
...well, this year with some of the people I have to work with taking forever to respond, I think I am learning patience. Or
im
patience as the case may be.
Around the house...
...smells like barbecue sauce. I vacuumed during lunch and also swept the kitchen, so things look a bit tidier.
I am pondering...
...retirement, since never having to get up early again (except voluntarily) or never having to drive 26 miles before seven a.m. (except voluntarily) sounds really good
A favorite quote for today...
"Someone made a grievous mistake when summer was created; no novitiate or god in their right mind would make a season akin to hell on purpose. Someone should be fired." ― Michelle Franklin
One of my favorite things...
Jeopardy
. I've been watching it since Art Fleming hosted the original show.
A few plans for the rest of the week:
More work, and a trip to the Container Store.
A peek into my day...
Something I saw a few nights ago: bats flying around (not my photo). Wish I'd see them more often.
If you'd like to participate, check out
The Simple Woman's Daybook
.
Labels: Simple Woman's Daybook