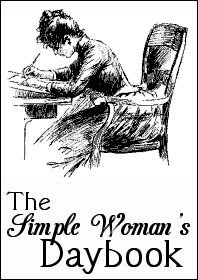 FOR TODAY, JUNE 29, 2017
Outside my window...
...night is coming on and it seems like it's been such a very long day. I can just see the outline of the bird feeder posts.
I am thinking...
...how hard it is to concentrate these days. I made a dumb mistake today by not saving a document—why does Microslop Word make it so difficult to correct margins and formatting?—and had to do half an hour's extra work to make it up. I need so much more sleep these days, and it's so hard to do that on work nights.
I am thankful...
...I have tomorrow off. Sleeping late sounds nice. I think James may be working at home tomorrow as it's supposed to rain all day.
In the kitchen...
...a few dirty dishes. I loaded up the dishwasher today, ran it, and emptied it again. We had potlucks tonight; I had leftover chicken wings and James got something from Checkers.
I am wearing...
...a flowered tank top, aqua shorts, and white socks.
I am creating...
...nothing right now. I'm feeling a bit down. I get these moody spells and they're as bad as summer heat. Tried opening a story to work on it and just sighed and closed it again. Maybe it's because I've been watching
Babylon 5
and realize every other person in the titles have died: Michael O'Hare, Jerry Doyle, Richard Biggs, Stephen Furst, Andreas Katsulas... (and Jeff Conaway from later on).
I am going...
...to try and cheer up tomorrow. Maybe something wonderful will happen...otherwise it will just rain.
I am wondering...
...if maybe I've been thinking too much and need to do something instead. I got rid of some junk today. That felt good.
I am reading...
...
Bright Earth
, the history of color in art. This is completely different from what I thought it would be—I thought it would be more like Victoria Finlay's
Colour
—but it's interesting anyway, all about chemistry and how it affected the colors painters used.
I am hoping...
...summer will stay in the 80s like it's been and not go into the 90s most of the months like last year. I don't like 80s, either, but it sure is better than 90s.
I am looking forward to...
...Independence Day, even if James is working. He gets to telework and gets double time, and we also usually don't go anywhere. We have some ribs to grill and will watch
1776
. We did this last year, too, when he worked. It was very quiet; I don't think he got two calls.
I am learning...
...to love naps! Remember when we were kids and struggled so hard against taking a nap? And now we would kill for one!
Around the house...
...still untidy. We have two old chairs and a microwave cart to get rid of, and it seems no one wants them. The clutter of them is making me unhappy.
I am pondering...
...how relevant
Babylon 5
still is. The first episode introduces the idea that the people of Earth are turning their backs on the alien races that are now known in in that time, forming an "pro-Earth" movement. Thirty-four years later and that parallel is still ringing true. Sad.
A favorite quote for today...
[when asked if it's worthwhile for humans to be in space]
"No. We have to stay here. And there's a simple reason why. Ask ten different scientists about the environment, population control, genetics, and you'll get ten different answers, but there's one thing every scientist on the planet agrees on. Whether it happens in a hundred years or a thousand years or a million years, eventually our Sun will grow cold and go out. When that happens, it won't just take us. It'll take Marilyn Monroe, and Lao-Tzu, and Einstein, and Morobuto, and Buddy Holly, and Aristophanes, and - all of this - all of this - was for nothing. Unless we go to the stars."
. . . Commander Jeffrey Sinclair
One of my favorite things...
...well, you can always watch
Babylon 5.
It's streaming from a website called go90.
A few plans for the rest of the week:
Sleep, I hope. And a bookstore. I need restoration.
A peek into my day...
How about watching some clips of my favorite of the
Bab5
actors, the late Jerry Doyle:
The Best of Mr. Garibaldi
If you'd like to participate, check out
The Simple Woman's Daybook
.
Labels: Simple Woman's Daybook