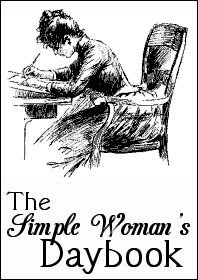 FOR TODAY, APRIL 6, 2017
Outside my window...
...it's late afternoon and partly cloudy, very windy, almost at the end of a very strange week of storms and contradictory weather.
I am thinking...
...about this week, which started out very warm (70-80 degrees F), Monday a day of violent thunderstorms, Tuesday calm, Wednesday more violent thunderstorms for about sixteen hours on and off, and now today, where the temps haven't broken 60!
I am thankful...
...we had no damage during either thunderstorm day. There were tornadoes in other parts of the state, or just collapse from four inches of rain yesterday.
In the kitchen...
...nothing cooking tonight, as it's potluck night. We have to go pick up James' pickup truck, which had to have new shocks installed (the old ones were leaking), and we'll probably go to Dragon 168 to pick up supper.
I am wearing...
...a green short-sleeved shirt and brownish (I call them "tobacco colored" because they have a greenish tinge) jeans and black Reeboks.
I am creating...
...nothing at work! Ever single order I have has some sort of problem. It's an ongoing annoyance.
I am going...
...to try and relax this weekend. It seems like even when we go away for a weekend, like we did two weeks ago, I never fully relax. I don't sleep well in strange beds (and the last one was particularly bad). Actually, sometimes I sleep the best on the futon, even with that lovely foam bed.
I am wondering...
...what to have for Easter dinner. We can't really have ham anymore, because of the sodium, and for some reason I lost my taste for ham long ago. Maybe a nice roast chicken? Or just throw caution to the wind and have something neat like lobster ravioli? I'm not going to work the next day (I need to gauge the Braves traffic online to know how to proceed once there are regular home games (in case you've missed my rantings, some idiot built the new baseball stadium right on my route home; it's already taking me 75 minutes to get home). They had an exhibition game last Friday, but our internet connection died about the time I was supposed to be surveying traffic.
I am reading...
...a really cool (but occasionally strange) book by Robert Macfarlane called
The Old Ways
, about a man who walks ancient pathways in his native Britain and in other countries (he has been in Palestine and Spain so far). The imagery is lovely.
I am hoping...
...to find something cool but affordable this weekend. I'm thinking about a deerstalker, but I don't want to pay a lot (but not a little, because then you get something cheesy).
I am looking forward to...
...221B Con this weekend. James isn't a big Sherlock Holmes or mystery fan, so it's nice to be with a bunch of people who like mystery books in general and Sherlock Holmes in particular. Only have two "dueling panels," but one is a real doozy: the "Joan Watson" panel vs. the "olden days fandom" panel. I am really torn! There are so many
Elementary
haters that I want to talk up that series as much as possible.
And the panelists for the women mystery writers panel better show up this year or I'm going to be severely pissed.
I am learning...
...not enough to suit me. I want to learn interesting stuff, whether it's about computers, history, Great Britain, anthropology, art, writing. I do not wish to learn anything more about procurement law.
Around the house...
...quiet while waiting for James to get back from Dragon. We were supposed to both ride over to the car place, but the shuttle guy brought the pickup truck, not the van. No room for me. I'm making Snowy happy and listening to Leo Laporte. Snowy loves his Leo.
I am pondering...
...this year's vacation. There's so much I want to see. But should we play it safe? And how do we keep Tucker from barking in a hotel room? He's only stayed in a cabin. (That was nice. Even the day of snow.)
A favorite quote for today...
Since it's the centenary of the U.S. entry into World War I:
"European nations began World War I with a glamorous vision of war, only to be psychologically shattered by the realities of the trenches. The experience changed the way people referred to the glamour of battle; they treated it no longer as a positive quality but as a dangerous illusion." .....Virginia Postrel
One of my favorite things...
...
Elementary
, which I think I will go back to watching! I get behind because when I get home from work most nights I don't want to watch anything. My eyes hurt and my glasses hurt.
A few plans for the rest of the week:
221B Con, where I can revel in literary conversations.
A peek into my day...
...Tucker waiting for cookies. He's always waiting for cookies.
If you'd like to participate, check out
The Simple Woman's Daybook
.
Labels: Simple Woman's Daybook