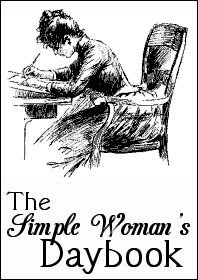 FOR TODAY, APRIL 25, 2017
Outside my window...
...sunny, and getting warmer, darnit. I admit having blue skies, clouds and breeze beats sullen grey skies and mist as it was yesterday, but must it get hot? I listen to a Boston radio station when I drive into work and the weather reports make my mouth water; more lovely spring weather, and not a dreadful 77°F like it will be today. I am not a lark nor a sun worshiper; I am most definitely an owl with snowy owl tendencies!
I am thinking...
...I have just finished a book about the Christmas truce of 1914 (since it was 100 years ago this month that the United States joined "the Great War," I planned my Rudolph Day reading accordingly) and thinking of how miserable it was for those men in the mud and the cold. As illustrated by the book, most of the men did not even have any malice toward each other; they were simply fighting because their governments told them so. The British "Tommies" talked to numerous "Hun" who had, not months earlier, worked as waiters, barbers, teachers, etc. in Great Britain!
I am thankful...
...that James will never have to go to war, nor have we any children that might have to.
In the kitchen...
...I made some order! We bought some pourable containers at the Container Store and they now hold all the nuts we use for our cooking. Now if only James will keep them in order! 😁
I am wearing...
...a black t-shirt which says "Bibliovore" and teal-colored "scrubs" pants, and the usual white socks and scuffs. I can't wear slippers at the computer because of the static electricity. This is a great trial in winter when my feet are cold!
I am creating...
...order out of chaos: the containers for nuts, cereal put away in a larger container, and a hook down in the laundry room to keep the little shopping cart from falling over (it's leant against the washer).
I am going...
...to have to buy a cheap broom for the deck. The one we have out there now is eleven years old and no longer sweeps well, having borne the brunt of weather for all eleven years.
I am wondering...
...what fresh errand will need to be run this weekend. There is always something!
I am reading...
...the Liberty Lane mystery story
The Path of the Wicked
and also a March 2014 "Simple Things" magazine. This is my favorite magazine currently!
I am hoping...
...to finally get an order going. It was delayed because of a problem with the specifications.
I am looking forward to...
...well, Wholanta next weekend, and also reading the two "Best of British" magazines I found at Barnes & Noble last weekend. I haven't seen a "Best of British" in several years; B&N does not stock them regularly as the Buckhead Borders Books used to.
I am learning...
...bought a book about creative illustration; need to mess around with it a little. Also need to try out my watercolor pencils.
Around the house...
...quiet right now. I was listening to Gretchen Rubin's "Happier" podcast earlier. The dog is eating and the bird is scrambling around making love to his favorite toy. Snowy is moulting again and the carpet under his cage is covered with a blanket of down.
I am pondering...
...retirement. But that's a constant these days.
A favorite quote for today...
"I'm really in retirement. My career is over. I'm just playing now and having a great time. I like to keep busy, and I'm doing what's fun for me." . . . . Dick Van Dyke
I like that. Because what I really want to do is stop working and start living (within financial means, of course).
One of my favorite things...
...We're having it for supper tonight: turkey! We don't reserve turkey for holidays; we buy turkey thighs—since we are dark meat fans and think breast meat is fit only for putting into soup—once or twice a month and cook them up with a nice gravy on top and have something yummy on the side. We have some Yukon Gold potatoes...
A few plans for the rest of the week:
Well, the new broom. The Jonquil Festival on Saturday (when it opens so it's not broiling hot). And then picking up the usual milk and bananas and bread for work sandwiches.
A peek into my day...
Here is Snowy using his best "get that thing out of my house" look. He apologizes for not being in "the finest feather." When one moults, one must moult.
If you'd like to participate, check out
The Simple Woman's Daybook
.
Labels: Simple Woman's Daybook