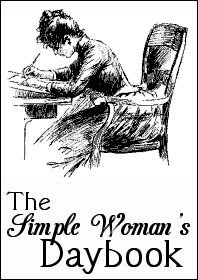 FOR TODAY, FEBRUARY 17, 2017
Outside my window...
...sunny and clear. It started out at 35°F this morning and now is 55 and will be around 70 today. 70s all next week, too. Pollen abounds and my sinuses already hurt.
I am thinking...
...I'm not ready for spring; we've hardly had winter yet! Not ready to be sneezy and sweaty and the Atlanta Pollen Festival scattering drifts of yellow pollen dust everywhere.
I am thankful...
...that I've finally getting to post on the following: for Thanksgiving we had a "Thanks Jar." I forgot to post about the results after Thanksgiving, then Christmas came, and the party, then my work picked up...you know, life happened. Instead I just posted about it in my holiday blog in the chronological order to which it belonged. So here is the result of being thankful after a very bad year:
What We're Thankful For
In the kitchen...
...nothing going on but dishes in the dishwasher needing put away. We will probably eat at Ken's Grill tonight as that is cheap and filling. Their pork chops are good, but I'm about pork chopped out. :-)
I am wearing...
...green "Mutts" pajama pants and a Soft Kitty t-shirt with a red plaid flannel shirt on top. I turned the heat off this morning so the 70s wouldn't get it hot in here this afternoon. It's about 65 right now. Plus white socks and beige scuffs. My toes are freezing, but I can't wear slippers because it will raise static electricity on the carpet and I don't want to kill the computer.
I am creating...
...a gift. I just have all the parts for it now, but I'm not satisfied with one of them. The base needs to be worked with a little, then I will have James prime it for me in his spray booth.
I am going...
...I finally believe, to get the shower stall clean without killing my back. I bought a rather expensive gadget called a Hurricane Spin Scrubber which has a motorized rotating brush. Previously I used to use a Mr. Clean scrubbing stick, but the "clean" never satisfied me. My alternative is to go in there with a sponge and scrub it by hand; this is a problem because I am so short. I can kneel in front of the shower stall and pretty much have to
lie down
to be able to scrub the whole floor of the stall and I
still
can't reach the back wall! I used the Spin just to give the stall a lick and a promise last night and even James commented on how nice it looked! But the "lick" didn't get the corners.
I am wondering...
...(still) how the dog's squeaky bone got into the wastebasket! I didn't realize it until the trash bag squeaked when I dumped it in the bin on Sunday night. Good thing I keep spares!
I am reading...
...
Hidden Figures
, which is wonderful. I am so impressed how these women persevered despite so many obstacles: because they were women, they had to be twice as good as men, because they were black, they had to be twice as good as whites. A super, super look behind the scenes in aviation and space travel. BTW, the funniest review of this book that I read went thus: "Boring. I wanted more about the women and less about the science." They talked about the women, their busy lives, the way some of the families were uprooted, their fight against bigotry...what did the reviewer want? Their bra size and what they listened to on the radio?
This, people, is why we can't have nice things.
I am hoping...
...to get some crafting in this weekend, even if it's just a little cross-stitch kit. Still, I'm quite happily reading through my magazines, too. I'm trying a media mystery magazine, "Crime," and this year's "Writer's Digest" annual.
I am looking forward to...
...Anachrocon! It's next weekend. Already have lots of panels in my schedule, including one about the space race and another about anthropology and yet another about science fiction television in the 1960s (not
Star Trek).
I am learning...
...has already been listed under "I am reading..." When I watched all those space launches in the 60s and 70s with those rows upon rows of men in Mission Control, who knew women—least of all African-American women—were making this work behind the scenes. Need to read
Rise of the Rocket Girls
, too.
Around the house...
...I am teleworking and listening to "The Tech Guy," which makes Snowy quite happy. Tucker is standing by the door to the deck, but he'll chase off the birds at the feeder, and it's the Great Backyard Bird Count this weekend. I want to be able to join the count, not have the dog chase all the birds away.
I do have an amusing incident for the bird count. When I took Tucker out this morning, our resident hawk nearly dive bombed me. He was fleeing from four angry crows nearly as big as he/she was. Once he went back to his nest, the crows left off and flew back west, cawing angrily.
I am pondering...
...my next read. I want to get to Maisie Dobbs, but I also have a couple of NetGalley books to read, and when I finish
Hidden Figures
I want to read something else for Black History Month. I have to get out the "Dear America"
With the Might of Angels
.
A favorite quote for today...
"Happiness is morning and evening,
Daytime and nighttime, too,
For happiness is anyone and anything at all
That's loved by you."
                 "Happiness," from
You're a Good Man, Charlie Brown
One of my favorite things...
...we ate last night: homemade turkey soup. This was the last of the turkey we made for Christmas Eve dinner when Mom and Candy came up.
A few plans for the rest of the week:
James has to work tomorrow, so I get to go to the cleaner and pick up our things. And Tucker needs a bath. We might go to Ikea on Sunday, "with the help of God and a few policemen," as Mom always said.
A peek into my day...
This morning's sunrise:
If you'd like to participate, check out
The Simple Woman's Daybook
.
Labels: Simple Woman's Daybook