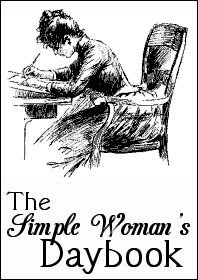 FOR TODAY, JANUARY 17, 2017
Outside my window...
...mostly cloudy. I hope it stays that way. It's bad enough it's going to be in the 70s today. It's like it's April.
I am thinking...
...at this point I am just coasting. I'll save the thought for when I'm working.
I am thankful...
...that I am not sick today and can take down the Christmas tree at lunchtime and after work.
In the kitchen...
...there's a chicken thawing in the sink. I will cook some very plain chicken tonight. I've only had oatmeal, yogurt, and dry toast today.
I am wearing...
...Mutts blue pajamas and white socks.
I am creating...
...order. By this evening the "Christmas closet" will be all neat and tidy.
I am going...
...to get rid of some of the long Christmas hooks I had to buy to get short Christmas hooks. I don't need them.
I am wondering...
...when I should take another retirement class. They're really all the same, but Juanita said you should take a couple.
I am reading...
...
Dickens' Fur Coat and Charlotte's Unanswered Letters
, about prima donna Victorian writers.
I am hoping...
...for cooler weather soon. Having 70s in January is a drag. I don't want anymore eighteens, like we had a week or so ago, but 50s would be nice and 30s at night. I'm sleeping terribly because I always wake up being too warm.
I am looking forward to...
...Juanita's retirement dinner (given by her daughter) on Sunday and the RV show next weekend. We have free tickets. Next month is Anachrocon. At least I won't be having an allergic reaction to the shingles vaccine this year.
I am learning...
...I bought another book about watercolor painting. It was watercolors I used on my Advent wreath.
Around the house...
...the dog stands on the non-burning deck, Snowy's kind of quiet. I'm not playing "The Tech Guy" for him because the day goes by too quickly when I play Leo's shows. Don't want my telework days to go by quickly!
I am pondering...
...still buying a new stove. The old one is getting on my last nerve. At least it still cooks meat properly, but it nearly ruined my wine biscuits this year.
A favorite quote for today...
"Winter is the time for comfort, for good food and warmth, for the touch of a friendly hand and for a talk beside the fire: it is the time for home."
--Edith Sitwell
One of my favorite things...
...being all spic and span after taking up the holiday things. Sadly, it doesn't stay that way for long!
A few plans for the rest of the week:
Work! Juanita's dinner.
A peek into my day...
How about a peek into something inspiring? So true!
If you'd like to participate, check out
The Simple Woman's Daybook
.
Labels: Simple Woman's Daybook