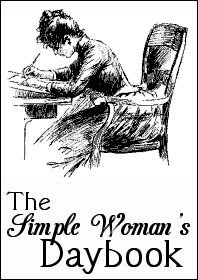 FOR TODAY, FEBRUARY 14, 2016
Outside my window...
it's sunny and so chilly out we can have the curtains open. That doesn't happen often; they are usually tightly shut to keep the heat out and, when it's warm, keep the air conditioner from ceaselessly running. $200 electric bills are quite enough, thankyouverymuch, without allowing Mr. Sun to jack up the cost more.
I am thinking...
...how nice it is right now. It is Valentine's Day, but James had to work, so the compromise is that he's working at home. I have "Escape," the easy listening channel on, and from a seat on the sofa can see the birds at the feeder through the dining room windows: fat little chickadees, wrens, pine warblers, titmice, and finches fluttering around. We had our Valentine dinner last night at Atkins Park and gave "practical gifts" to each other, restaurant gift cards for Red Lobster and Olive Garden (we were going to do Amazon or Barnes & Noble cards, but the restaurant cards got us twice as many gas points). Now we can go back to OG and have beef tortelloni. :-)
I am thankful...
...for a quiet day; Friday I ran around picking up craft staples and then we went grocery shopping, so today can be a nice breather. Tomorrow I must go face a "frog."
In the kitchen...
...dirty dishes, mostly, waiting to go into the dishwasher. We have Sprouts Italian wedding soup for supper.
I am wearing...
...
purple sweatshirt and grey sweatpants and red-and-blue striped kneesocks, which I am enjoying because it is supposed to be bloody warm by next weekend, almost 70. Ugh.
I am creating...
...tiny electrons across the screen right now.
I am going...
...peacefully right now. Tomorrow will be a different story.
I am wondering...
...if the warm will stay long, or if I will see a yellow-rumped warbler this year, or what we can stash with us for Anachrocon because the Marriott's restaurant is so bloody expensive, and how we are going to manage coming home from Atomicon and going to Leigh's wedding...oh, so many things, as Betty Roberts would say.
I am reading...
...right now I am reading a British magazine I have gotten hooked on, "The Simple Things." It's lots nicer than "Real Simple," which has too much white space and is a waste of time. This is the January issue and so far there has been a story about living in Tasmania, a cozy photo-story about living in an electricity-free log house in Norway, the history of blue jeans, the Danish concept of
hygge
(cozy home/friends/family feeling), and lots of warm fuzzy winter photos. There is always a one-page short story at the end, too.
As for books, I am reading
Walking the Bible
, having just finished
Little Woman in Blue
, a novel about May Alcott.
I am hoping...
...for no tadpoles out of the frog.
I am looking forward to...
...Anachrocon, even though I don't see a
Wild Wild West
panel! How can you have a "Weird Wild West" and not have a WWW panel?
Around the house...
...James has been working since 7:45, so he has broken for lunch and I can hear something warming up in the skillet. Tucker is apparently looking pitiful next to him. Snowy is singing along to "Escape."
I am pondering...
...oh, what's wrong with people today.
Someone stole a brand-new snowblower out of my 95-year-old uncle's backyard and left a snow shovel in its place!
A favorite quote for today...
"You don't have to try very hard to find the ultimate escape. There's no need to travel far or to send your mind on a journey of the imagination. Pick a clear night when the moon is large and step outside. Stand in your back garden and simply look up for a trip through the heavens that never fails to humble and awe. ...[S]ometimes all you want to do is wonder. And wander. I call it Wonderlust: the desire to be amazed by what's around us." . . . . Lisa Sykes in the January issue of "The Simple Things."
One of my favorite things...
...is for supper: Sprouts Italian wedding soup. It's the only thing I'll eat spinach in.
A few plans for the rest of the week:
Slimy, nasty, disgusting frog.
A peek into my day...
Snowy wears a Valentine heart on his face all year long:
If you'd like to participate, check out
The Simple Woman's Daybook
.
Labels: Simple Woman's Daybook