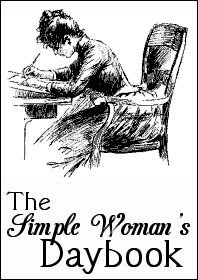 FOR TODAY, November 3, 2015
Outside my window...
...another grey day; wouldn't mind it so much if it wasn't drizzly as well, plus warmish and humid instead of cool.
I am thinking...
...how quickly October went by! Summer just seems to crawl along, ugly hot steaming day by ugly hot steaming day, smelling ranker than moldy underwear, and making you feel worse. When the cool air comes along, everything seems to wake up, including me. Once again the greenery smells fresh and sweet, the ceaseless roar of the cicadas is gone leaving only the soothing chirp of the crickets, breezes blow and chivvy the leaves around, the sun doesn't make your skin burn. You can enjoy the outdoors instead of flinching at the thought of going out.
I am thankful...
...for October, and a safe and relatively happy vacation (we won't talk about that first night in a 77°F room!).
In the kitchen...
...I'm cooking roast chicken for supper. I suppose I should see if the cucumbers are still good.
I am wearing...
...black tank top and green shorts and white socks. It's still pretty warm—almost up to 70 today.
I am creating...
...just putting a tiny glass Santa Claus back together. It fell off a shelf while I was changing a clock back. Stupid Daylight Saving Time. Glad it's over. Now it's dark after supper as it should be.
I am going...
...to do a lot more dejunking the rest of the year. At least I hope I can. Some things are too heavy for me to lift.
I am wondering...
...where to go on vacation next year! Might as well start planning now. We'd thought about going to Charleston this year before Southwest had their big sale, so...maybe. Still want to go back to DC. Would love to go to Missouri. And I still think about Pennsylvania Dutch again.
I am reading...
...
Cro-Magnon
by Brian Fagan, having just finished
A Gilded Grave,
the first of Shelley Freydont's Gilded Age Newport mysteries. I enjoyed the characters and the plot, but I think she tells her story better in the Celebration Bay mysteries. In the meantime, enjoying delectable anthropology now.
I am hoping...
...to do all sorts of fun things before Christmas this year. I'd really like to wait to go up to Chattanooga and McKay's until the Christmas things are out. Really need to do Christmas at the Mable House this year; every year I say I am going, and then I forget. There are only so many weekends before Christmas. And of course I must visit the antiques mall to see how they are dressed for the holiday!
I am looking forward to...
...don't laugh: new socks. My socks are quite pathetic right now.
Around the house...
...fan over the stove still bellowing although the chicken is now finished. We have cucumbers in red apple balsamic vinegar as well. And it's dark and cozy out.
I am pondering...
...a Thanksgiving project, even if I'm late in starting.
A favorite quote for today...
..."Winter is an etching, spring a watercolor, summer an oil painting, and autumn a mosaic of them all." . . . . Stanley Horowitz
One of my favorite things...
...a freshly vacuumed rug. I did the whole main floor during lunch. Removed six...count 'em, six!...canisters of
dog hair
. And he's a single-coated dog! But after I vacuum, everything looks so big!
A few plans for the rest of the week:
One more Hallmark Ornament premiere!
A peek into my day...
How about a peek into one of our vacation days? These are the trees at Strawbery Banke Museum in Portsmouth, New Hampshire, two weeks ago.
If you'd like to participate, check out
The Simple Woman's Daybook
.