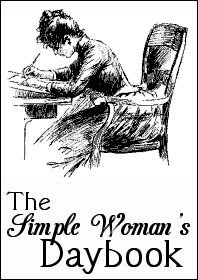 FOR TODAY, SEPTEMBER 29, 2015
Outside my window...
...cloudy, misty, and a bit dreary, but at least it's only in the 70s. 90s and sunny is
not
better! No breeze, either, so the drooping leaves of the trees in the back are just bowing soddenly.
I am thinking...
...not anything important. This morning I made sure all my purchase orders that were competed on GSA schedule were listed as closed, and then I started working on automatic closeouts again (we have to fill out a form to transfer the file to the file room).
I am thankful...
...end of fiscal year is over. It didn't get as hairy as last year, thankfully, because I couldn't have borne it if it had. Strange things happen anyway. This morning I found out the warehouse isn't taking delivery of copiers anymore. Who knew?
In the kitchen...
...some big chicken drumsticks are thawing. I love these drumsticks from Sprouts. You get a full meal and sometimes even a sandwich out of them. Thinking of how to season them, but I'll probably just use a little salt and a little ginger.
I am wearing...
...navy blue tank top, aqua shorts, and white socks, with scuffs. Looking forward to be able to wear my "Mutts" pajamas again.
I am creating...
...LOL—lots of sheets of paper! I still have about 180 of these closeout things to go. Finished a Christmas gift. I should work on a little gift I want to give.
I am going...
...to have to get cracking on some chores. I need to scan something to the insurance company. I still haven't mailed off the check to get a new copy of my birth certificate. Plus I need to call to get the furnace serviced and the ducts cleaned. Alice has recommended their service, Peachtree, so I need to call them. And the carpet still needs cleaning...
I am wondering...
...whether to do something special, like a group dinner, for our anniversary, and maybe for my birthday. It's our silver this year, and, good grief, I'm going to be sixty!
I am reading...
...
The Complete Days
by H.L. Mencken. Love his command of language and his tart comments about society. The casual racism is still disturbing, but it's a true picture of "the olden days," rather than the whitewashed version you get from modern books and films. I'm also in the middle of several other books, including one on the story of writing, another about World War I sites you can visit in the US and in Europe, one of Harry Potter essays, and even a couple more.
I am hoping...
...for open-window weather soon! Until it goes under 60°F at night, it's too warm on the second story to sleep with the windows open (even with the three fans going!).
I am looking forward to...
...the Georgia Apple Festival. That's a weekend from now. This weekend is the penultimate "ornament premiere" at Hallmark (yeah, they do another one now, in November; let's milk this for all it's worth).
I am learning...
...not to take up any more hobbies! I need to finish the projects in my craft room first!
Around the house...
...I'm working and listening to "The Tech Guy," whilst Snowy sings along. Tucker is asleep in James' chair. During lunch I cleaned out two bathrooms. Fun stuff! :-)
I am pondering...
...anniversary surprises. There is one. :-)
A favorite quote for today...
"We know that in September, we will wander through the warm winds of summer's wreckage. We will welcome summer's ghost." . . . . . Henry Rollins
One of my favorite things...
...
Doctor Simon Locke
, which is about to conclude (on Thursday I think, on Friday if I'm lucky, and that's a long story) its fourth rotation on RetroTV.
A few plans for the rest of the week:
More closeouts! Not sure what we've planned for the weekend.
A peek into my day...
...it's FALL, y'all!
If you'd like to participate, check out
The Simple Woman's Daybook
.
Labels: Simple Woman's Daybook