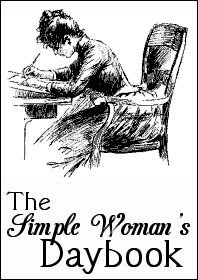 FOR TODAY, AUGUST 4, 2015
Outside my window...
...looks to be clear and hot again, but possibly cool enough this morning to be able to breathe properly while walking the dog. Now that school has started, I can take Tucker on his usual route (as long as the guy up the street isn't walking his deadly enemy the German Shepherd, that is).
I am thinking...
...about fall. Summer is worse on us every year. James can't even go out in the sun for long periods now without getting burned. Thankfully most of the things we like to do are in the fall or inside. My allergy has been a handful this year; I can't go outside without getting stuffed up. Could I be allergic to kudzu, too? There's a big patch of it growing near the retaining pond.
I am thankful...
...that James is better, but he's still not doing well. The steroids have his scores up and down in an alarming manner, even when he has just eaten meat and vegetables.
In the kitchen...
...dishes need to be washed. I don't know what to do about the dishwasher. Clearly the black stuff under the "self-cleaning" filter needs to be removed, but would wearing masks be enough? What if this is what triggered the hypersensitivity? He clearly got sicker when spring ended and summer started, when this gunk was building up.
I am wearing...
...usual summer teleworking wear: dark blue tank, light blue shorts, and socks so I can quickly change gears, put light pants on, and go walk the dog.
I am creating...
...a group gift for a family for Christmas, around an activity they like. Part of this involves painting a item and decorating it appropriately. A little stitchery will also be involved. Plus I'm working on a piece of fanfic that possibly only Liz and I will enjoy, but...what the heck. :-)
I am going...
...going a bit mad trying to figure out how to finish forty orders in a month. Gone are the halcyon days when I could whack eight orders out of the queue at one time; there is so much more paperwork involved now, mostly due to creeps like that jerk who used his Federal credit card for personal purposes.
I am wondering...
...seriously now about the dishwasher and its possible role in James' illness. Maybe it's even best to get a new one. There are perfectly serviceable dishwashers at Lowe's, including a low-end Bosch like the one we had in the old house, that aren't full of all these useless gadgets like "steam clean" and, the most useless of all, stainless steel exteriors. It baffles me why people are so het up about stainless steel exteriors and granite countertops.
I am reading...
...that book of lists I got off the B&N remainder table. I haven't laughed so hard since the last birthday get-together we all had, reading the list of ten conspiracy theories about the Catholic church. I was reading them aloud to James with tears of laughter blurring my eyes.
I am hoping...
...for cooler weather. That's all I ask. At this point, even 80 would be nice, although if I am feeling really down I go to the weather channel and look up the temperature in Auckland. It's about 50°F there now. Sounds divine!
I am looking forward to...
...DragonCon. Except for the heat and the crowds in the "habitrails" between the hotels. Usually I walk outside in the heat anyway, because it's so claustrophobic inside, especially on Saturday. We were watching
Four Days at DragonCon
on Saturday and them talking about how they don't know how many people actually attend! With computer registration? Are you serious? Shouldn't it be keeping track?
Around the house...
...quiet. Tucker disappeared into his "cave" after coming in from his walk. Snowy is sulking because I haven't put Leo Laporte on yet.
I am pondering...
...fragility. Heard anew of several people who are faced with breast cancer, including the daughter of my favorite cashier at Publix. A friend was in a bad car accident almost a month ago; she's having surgery for an injury next week. My team lead's husband's niece was in a terrible accident and isn't expected to live. Several other friends still fighting cancer. And James is still worrying me. Not just the lungs; he's still not sleeping properly. It causes all sorts of problems for him, although he so seldom complains (Saturday night it must have been just so bad).
:-( Sorry to be a downer.
A favorite quote for today...
Just to cheer up what is always gloomy summer:
"I'm so glad I live in a world where there are Octobers." — L.M. Montgomery,
Anne of Green Gables
One of my favorite things...
...the
Doctor Simon Locke
reruns, which ended on RetroTV on Friday without them having located the two missing episodes yet, but there's hope, since they found one. Also, a reliable "little bird" told me via e-mail that a DVD release of all of
Police Surgeon
is at least under consideration.
A few plans for the rest of the week:
Work, and nothing but it. James has his club meeting on Saturday. We need to go to Sam's for Chex mix for my lunches because Costco doesn't carry it. Maybe they'll have some Skinny Pop, too. I was so desperate on Saturday that I nearly bought that dreadful Boom-Chicka-Pop stuff.
A peek into my day...
He looks like a little angel, doesn't he? What you can't see is that there's about ten holes in that blanket because he grabs it and shakes it like a rat. Wouldn't mind except for all the white fluff all over the floor!
If you'd like to participate, check out
The Simple Woman's Daybook
.