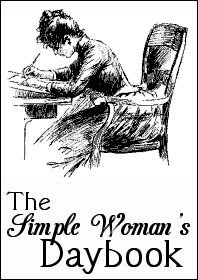 FOR TODAY, AUGUST 25
Outside my window...
...the trees are slowly waving in a beautiful breeze that has been blowing all day. Fall is starting to nip at summer, but it has a long way to go to conquer the nasty thing.
I am thinking...
...about autumn, dreaming about the cool, just waiting. I saw geese this morning flying overhead. They were headed east, whatever that means.
I am thankful...
...for this morning. It was 62°F with a breeze, absolutely delightful weather to be walking a dog; certainly I didn't want to come in to sit down and work! I would have rather kept walking and walking in that energizing air. This morning I was able to have the back door open with the fan pulling in outside air, and the window in the living room open, until about 12:30.
In the kitchen...
...I just finished cooking those humongous chicken legs they sell at Sprouts. I just sprinkled granulated onion and garlic on them, with a little white wine, and cooked at 450°F so they come out crisp, just as it says in "Cooks Illustrated." Yum. James will make me a sandwich with what's left over. Maybe two sandwiches. Cold chicken is almost as good as hot chicken.
I am wearing...
...black tank top and green shorts, with white socks.
I am creating...
...working on a piece of fanfiction, actually. Still doing
Doctor Simon Locke
stories.
I am going...
...still crazy at work. About 15 or 16 more orders to go. Of course these are the tough ones, where I need vendor responses, or vendors put into the system.
I am wondering...
...when I will get to rest! The weekend just isn't enough!
I am reading...
...what was the newest Tiger and Del novel,
Sword-Bound
, at least in 2014 when I bought it in paperback. According to the book, there should be another out soon or
maybe even now. I wasn't sure I could get back into it, since the last book in the series came out ten years earlier, but sure enough it's been like putting on an old familiar sweater.
I am hoping...
...it stays cool at least in the morning, but alas, it's going back up to 70 at sunrise by the weekend.
I am looking forward to...
...DragonCon, of course. Sadly, Paul McGann is not coming. I'd wanted to see my last classic Doctor. But Tom Mison is expected (Ichabod from
Sleepy Hollow
) and now it has been announced that Nicole Beharie (Abbie) will also be there. That will be one crowded panel.
Around the house...
...trying to watch the
Lassie
I recorded earlier, but the recorder is not recording very well, especially on what are supposed to be its native RAM disks. Phooey. Tucker is asleep somewhere, and James is perusing Facebook. Every once in a while, Snowy lets out a squawk.
I am pondering...
...why people like summer! I hate being hot, sticky, and dizzy from the sun, and when it's too warm it is hard for me to breathe. I like snow, but I know I couldn't tackle New England snow anymore. If it would just stay in the 50s and low 60s I believe I could tolerate it.
A favorite quote for today...
...goes to Snowy. I was playing one of his favorite things, Leo Laporte's "Tech Guy" podcast, and Leo was discussing the latest events in tech. He finally said humorously, "I'm not even going to mention Ashley Madison," and as if on cue, Snowy said forcefully, "Good boy!" It was too funny. A few minutes later, he proved he was always listening to us. Usually when we leave the house we say to Tucker, "Be good!" and can just imagine him answering back, "Do I gotta? Being good is boring!" so we add "Yes, you gotta be good!" I nearly fell out of my chair when Snowy blurted out, "Yes, you gotta be good!" this morning.
One of my favorite things...
...this song by the Fifth Dimension!
A few plans for the rest of the week:
Just work. And James works Saturday.
A peek into my day...
Tucker, asleep, of course.
If you'd like to participate, check out
The Simple Woman's Daybook
.
Labels: Simple Woman's Daybook