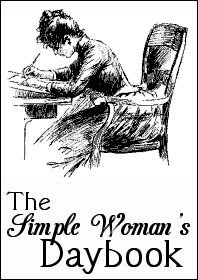 FOR TODAY, March 17, 2015
Outside my window...
...a lovely sunrise this morning, trails of pink and yellow painted upon shades of grey. Sadly, weather's going to "bite" later: up to the high 70s. Will have to run around the house now getting the fans to pull in cool air if I have any hope of keeping it cool in here this afternoon.
I am thinking...
...how I wish I could be happy about spring. But...stuffed nose, teary eyes, warm temps, and the "Atlanta Pollen Festival" coming along soon (it's like waiting for a dust storm), and it's a hard slog.
I am thankful...
...it was cool for so long; do wish it had lasted until the end of the month. It went from cold to hot like someone flipped a switch, no ramping up from 50s to 60s to 70s.
In the kitchen...
...the dishwasher is empty, ready to be filled again. I'm making turkey thighs for supper.
I am wearing...
...blue "Mutts" pajamas with Earl's little terrier face smack in the middle, white socks and beige Dearfoams slip-ons.
I am creating...
...purchase orders, as always. I need to create order. I have a stack of books I haven't reviewed. I may have to just let them go. They look out of place stacked on the back of the sofa.
I am going...
...nowhere at present! Friday is the annual trip to the vet with the menagerie. Snowy does not like the "dreaded hand towel." Tucker will have a bath that I will not have to give him, too. I think about the bill and get slightly faint.
I am wondering...
...when I'm going to kick myself into gear enough to take down the winter decorations. I did take down the winter village to put up the St. Joseph's altar, but that's about it. If I didn't have to pack the boxes like puzzle pieces I wouldn't mind so much, but I only have room for the two small boxes and one large, and the big Hallmark bag for the three baskets. Sunday makes two weeks to Easter and I have nothing spring up—understandable because I'm fighting it coming tooth and nail. I don't know if I even want to put up spring decorations because by April 1 the porch will be covered with yellow drifts of pine pollen. The tassels on the pine trees are already full to bursting.
I am reading...
...a lot of things; in the middle of several books which I change on a whim because of how I feel. There's the "Bottom Line Personal" Millenium book I bought at the book sale (too much about investing in it!),
Theodore Rex, The Jesuit Guide to (Almost) Everything
that I never had time to get into last year,
Freedom Just Around the Corner, Italian Neighbors
, and even a retirement book I've been slogging through for months because I'm past the one-third mark and the author is still continuing to insist that you will be happy and fulfilled if you're not working! Well, I
know
that!
I am hoping...
...it goes back to being a little cooler. Low 60s would be fine!
I am looking forward to...
...three weeks from Friday is 221B Con. Can't wait! Had a terrific time last year. If James doesn't have to work, I hope he gets to go to his meeting (he missed it this month for being at work; at least we got to go to the BritTrack Meet'n'Greet on Sunday) or at least have lunch with the guys.
I am learning...
...frankly, I wish I'd learn how to be sleepy earlier.
Around the house...
...I'll soon be surrounded by my work desk. Snowy is giving me an inquisitive look. Tucker just came in from his walk and is looking for his breakfast.
I am pondering...
...the future. I must sign up for the retirement course. It's next month.
A favorite quote for today...
Alas, no:
"You can cut all the flowers but you cannot keep spring from coming." - - - Pablo Neruda
One of my favorite things...
...the series
Sleepy Hollow
.
My friend Steve did an interview with Tom Mison on his blog recently
that came with a lovely photo of his character Ichabod Crane. Alas, you can't share it, but I'm using it as computer wallpaper. Very inspiring!
A few plans for the rest of the week:
More purchase orders! A very necessary backup of my hard drive (I skipped it on the 28th).
A peek into my day...
Tucker in his favorite place: on the deck.
If you'd like to participate, check out
The Simple Woman's Daybook
.