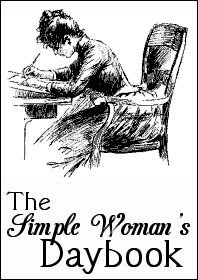 FOR TODAY, AUGUST 21, 2014
Outside my window...
...it's early evening, since I never have time to do this in the morning, and it's been a blazingly hot day, up in the 90s. I took Tucker out at four and don't know how I kept breathing. Thankfully, there was a breeze!
I am thinking...
...how fast the summer has gone by. This has been both a blessing and a curse at work, because end-of-fiscal-year has gone by quickly, but it also feels like I haven't had time to concentrate on anything properly. I've sent so many "I'm sorry this is belated" e-mails that I can write them in my sleep, and I guess I frequently do, because I'm always dreaming about work.
I am thankful...
...that I'm seeing fall magazines on the newstand. Summer always feels like it will never end.
In the kitchen...
...nothing, because it was potlucks night. James needs to finish cleaning the counter and the cutting board. I had the exterminator spray and put powder under the counters, just in case, even though I only saw the two roaches in the bathroom.
I am wearing...
...a black tank top and shorts and white socks, in other words, my usual summer outfit.
I am creating...
...nothing for the rest of the evening. I did three orders today and my left eyelid is twitching so hard it rubs against my eyes. I understand this is probably from a combination of stress and lack of sleep.
I am going...
...crazy. :-) But that's contracting for you. I always wondered why John Houseman's character in
The Paper Chase
was such a humorless git. Well, of course! He teaches contract law!
I am wondering...
...what to do about the future. "The moving finger writes..." and all that. James' back is shot after the two falls; he's going to need a scooter to go long distances. He's going to have to find an alternate form of exercise (perhaps swim therapy?), and we're going to have to spend the money for a carrier on the car/truck. It seems no matter how much I don't want to spend money, we always have to spend more. Now we're going to have to pay extra for the exterminator to treat the deck because it has carpenter bees.
I am reading...
...
Boston and the Dawn of the American Revolution
, which I love when it talks about the people and the historical events, but the politics is rather turgid. I'm also trying to finish a book about retirement which is hard slogging, because I'm over one third through it and the author is still trying to convince the reader that it's
okay
to retire, that you won't be a lesser person if you do. Holy cow, I know that! I want to retire so I can become me again, instead of someone who has to, in the words of "Prufrock," "prepare a face to meet the faces that you meet."
I am hoping...
...for cooler weather for next weekend. Fat chance, but I'm still hoping.
I am looking forward to...
...Saturday! BBC America! 8:15 p.m.! Peter Capaldi!
Doctor Who!
Enough said!
Around the house...
...it needs vacuuming, but I don't have the time nor the inclination this evening; I have a headache and am even wishing to finish this quickly so I can go nurse it.
I am pondering...
...Tucker. He's such a funny dog! He was good as gold today. I've told him, although I know he doesn't understand all his words, that if he plays by himself and doesn't destroy things, he can stay out while I am working. I had to lock him up while the exterminator was here, but otherwise he slept on one of the dining room chairs from 8:30 to 4, when I took him out, and didn't bother me.
A favorite quote for today...
...you've had your quote for the day. Prufrock rules!
One of my favorite things...
..."Early American Life
,"
which I shall read when I get finished with this.
A few plans for the rest of the week:
Work! Work! Work! And a trip to Bed, Bath & Beyond, because we have four coupons that expire on Monday.
A peek into my day...
Picture me sleeping. I like. :-)
If you'd like to participate, check out
The Simple Woman's Daybook
.
Labels: Simple Woman's Daybook