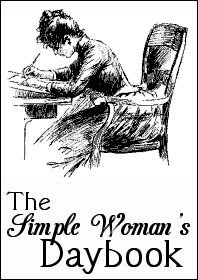 FOR TODAY, July 8, 2014
Outside my window...
...it is a little after 9 p.m. and almost dark. These long summer evenings are unsettling. I would rather have the daylight in the morning, when I need it. The sun is already rising later each day since the solstice has passed.
I am thinking...
...it's going to be a long week. No compressed day off this week, and my sinuses are giving me fits. The more I wear my glasses, the more it hurts. They are calling for rain at the end of the week, and the sinus pain may be from the pressure building up. It feels like someone pounding on the bridge of my nose with a hammer.
I am thankful...
...that so far there has been a nice breeze almost every day. It helps to make the summer more bearable. I'm hoping it will keep up through the next eight weeks...hell, through the next twelve weeks, since September is just as hot here as July is.
In the kitchen...
...still leftovers of our lamb dinner, and some fried rice Rice'a'Roni as well. I think they screwed up the flavor packet of the latter, as it sure didn't taste like the usual mixture. It's my favorite flavor as it has some crunchy veggies in it.
I am wearing...
...black tank top and black shorts, and pink socks. ("Little pink sock!" as Mooch in "Mutts" would think.)
I am creating...
...a blog entry. :-)
I am going...
...to sleep late on Sunday, and screw the groceries! Sunday is a full plate: Hair Day, Brittrack get-together, and the Hallmark Ornament Premiere. I can't believe it's that time already.
I am wondering...
...it's fourth quarter. The only thing I wonder at this time of year is if I'm going to make it. Every year it seems like more and more of a miracle. I'm having trouble concentrating this year, too. I thought it was due to my depression over Willow's death, but that seems to be receding and Tucker is helping to fill that raw, gaping hole. My sinuses hurt and my left eyelid is constantly pulling.
I am reading...
...I just finished a book of "Gaslamp fantasies,"
Queen Victoria's Book of Spells
, which I quite enjoyed. Now I'm reading
1941: Our Lives in a World on the Edge
, which covers December of 1940 through December of 1941. It's not just military and political events, but social items as well. Superman products were popular Christmas gifts in the US in 1940. Menachem Begin celebrated New Year 1941 in a Russian prison. Very enjoyable.
I am hoping...
...my sinus headache goes away. It only does when I'm asleep lately.
I am looking forward to...
...seeing friends this weekend. During the week we live in a vacuum, because frankly we're bushed by the time we get done with work.
I am learning...
...more about 1941!
Around the house...
...James is at the computer, looking at articles about aircraft. Tucker is quiet, which is probably suspicious! Snowy occasionally chatters behind me. I'm watching
History Detectives
, which is discussing the mystery of Glenn Miller's death.
I am pondering...
...this mystery. So many theories about his death! Of course the weather was dreadful; the plane probably just crashed from iced wings. But supposedly Miller was a spy. Or dying of cancer. Or downed by friendly fire.
A favorite quote for today...
"Perhaps one central reason for loving dogs is that they take us away from this obsession with ourselves. When our thoughts start to go in circles, and we seem unable to break away, wondering what horrible event the future holds for us, the dog opens a window into the delight of the moment."
― Jeffrey Moussaieff Masson
One of my favorite things...
...watching Tucker do "turbo terrier" around the room. Tonight the gate was open and he did a big slalom course around the room
and
through our bedroom. He goes flat out so that he almost touches the floor; I'm amazed the way he makes the sharp turns, ninety degrees or sometimes even more acute.
A few plans for the rest of the week:
Work, work, work, until it's Saturday and time for some fun.
A peek into my day...
I sat at my desk for nine hours, but I did take Tucker for a fifteen minute walk this morning, and then out this afternoon for another half hour, most of which was spent in the back yard where he sniffed for squirrels and I chirped "Go potty!" He also watched while I took the flag down and the tinsel flag on the front door, replaced the wreath, and put up a brand new flag which has flowers and birds on it. At suppertime we watched
Make Room for Daddy
.
If you'd like to participate, check out
The Simple Woman's Daybook
.
Labels: Simple Woman's Daybook