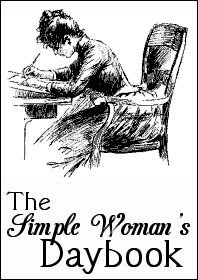 FOR TODAY, May 8, 2014
Outside my window...
...the sun is behind the trees just now, but the birds are already working up a symphony. Once it gets warm enough the cicadas will be buzzing again. Up to the 80s again. Quite a shock after a nice cool winter with some ice events.
I am thinking...
...about bookstores this morning. I am reading
My Bookstore
and it's casting me back to Paperback Books on Weybosset Street in Providence, across from the Outlet Company department store, and Read-All, a narrow little bookstore also across the street from the Outlet, but on Union Street (it's a parking lot now). Actually my first bookstores were the five-and-tens, Newberry's and Woolworth's and Grant's, where I bought Whitman Books down in the toy department:
Lassie
tie-ins,
Fifty Famous Fairy Tales, Beautiful Joe, Black Beauty, Eight Cousins...
I am thankful...
...this week will be over soon. It's been so frustrating and so melancholy. But then melancholy seems a way of life these days.
In the kitchen...
...the dishes are washed! We're having Firehouse Subs tonight!
I am wearing...
...aqua blue shorts and a blue and black ombre tank top. And socks, because while I'm warm, my feet are still cold.
I am creating...
...well, I have a cross-stitch of a kitten started. Haven't worked on it in a couple of weeks, though. I have some cell phone jack plugs coming in the mail, to make little cell phone bling things.
I am going...
...it's third quarter, so "slowly crazy" answers this.
I am wondering...
...how Snowy is going to take his first vet visit. He's going tomorrow and I'm petrified. He's still so shy, and the vet will have to grab him, and give him a polyoma shot. I hope it doesn't upset him too much.
I am reading...
...well, I've partially answered that. I'm also reading an ARC called
The Owl Who Liked Sitting on Caesar
, plus am in the middle of
The Victorians, Wandering Through Winter, The Great Wagon Road
, and a McFarland book about flawed television heroes. Oh, and I'm re-reading one of my favorites, Richard Bradford's
Red Sky at Morning.
I am hoping...
...like "Stella" I can get my groove back.
I am looking forward to...
...Timegate! The schedule is already up! Too many panels I want to see up against other panels I want to see. An embarrassment of riches.
Around the house...
...quiet right now. There's no television on, so Snowy isn't singing. Once I put "The Tech Guy" on, he will wind up. I think he likes Leo's voice. :-)
I am pondering...
...the calendar. I don't want to get old too fast, but retirement is just not close enough yet.
A favorite quote for today...
"Laughter and tears are both responses to frustration and exhaustion. I myself prefer to laugh, since there is less cleaning up to do afterward.
" -- Kurt Vonnegut
Sorry. I'm still in the crying phase.
One of my favorite things...
...these days? Sleep. I never feel like there's enough sleep. I want to drink it up like great big glasses of milk.
A few plans for the rest of the week:
Snowy's vet appointment. Utterly tense about it.
A peek into my day...
...posted on Facebook for Throwback Thursday. Sometime between April 1988 and November 1990 at the old East Paces Ferry Road location of the Procurement and Grants office. My trusty typewriter at my left and my even trustier Wang computer over my right shoulder. Lisa Jordan would be at the desk in front of me, Andrea Stokes to the office to the right of my elbow, Kathy Bridges and Bruce Granoff sharing the office also on my right, and then Martin Hirsch, the Branch Chief, in the last office on the right. I look like Addie Mills grown up in this pic! I think it's the glasses.
If you'd like to participate, check out
The Simple Woman's Daybook
.
Labels: Simple Woman's Daybook