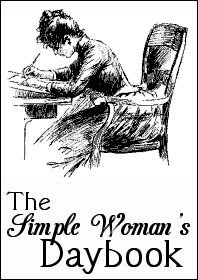 FOR TODAY, FEBRUARY 6, 2014
Outside my window...
...a light overcast. Some birds at the feeder. The bare branches, the bones of the trees, in the back yard, taking their winter nap.
I am thinking...
...how long I haven't written one of these; I used to manage every week, except during fourth quarter, and things have been so up in the air with Willow being sick.
I am thankful...
...for budgie song; Snowy is singing a charming aria in the background.
In the kitchen...
...it needs sweeping and is otherwise bare right now. I need to eat lunch, but if I get up and shuffle about in there, Willow might wake up, and she needs her sleep. She is still not eating well; what she will eat one day she won't eat the next, and she refuses to eat pumpkin, or yogurt, or something that might settle her innards. She was very hungry yesterday and ate chopped chicken, alphabet pasta in unsalted broth, and a plain scrambled egg, and this morning there were traces of watery vomit on the bathroom floor. She didn't act sick, and did eat a bit of rinsed shredded beef (rinsed to get as much salt as possible off it) in unsalted broth, and some plain, small dog biscuits.
I am wearing...
...pine green sweatshirt, navy blue sweatpants, and two pairs of socks. I tipped the thermostat up to 68 and my feet are still ice cold. I can't wear slippers because it makes sparks against the carpet and that could ruin the computer.
I am creating...
...purchase orders, finally! Finished one and was working on another when I decided to take a lunch break and do this.
I am going...
...slowly crazy, I think. :-) Wish I knew how to make Willow well.
I am wondering...
...what food to try next. Pork is too fattening. I know they give lamb and rice to sick dogs, but the lamb we can get seems too fatty and Wil has gone off rice after barfing it several times (I can't blame her).
I am reading...
...just finished Jill Paton Walsh's
The Late Scholar
, which takes Lord Peter Wimsey and wife Harriet Vane into the 1950s, investigating a murder at the Oxford. Even with the murders, it's such a nice comfy world. I would have liked Oxford, I think
.
Not sure what to go to next. A travel book, perhaps? More history? The rest of the vintage New England places essays? A biography? We'll see.
I am hoping...
...we can find something for Willow that she can eat and doesn't make her ill. If she was arthritic and sad, with dull eyes and a hopeless attitude, we would know what to do, but when she is awake she can still wag her tail, she doesn't even have cataracts like most old dogs do, and she was quite happy yesterday. I suffer from periodic gastric problems, so I know how miserable it makes you feel.
I am looking forward to...
...how about I'm not looking forward to, which would be spring, summer, and End of Fiscal Year, in that order.
Around the house...
...it's chilly outside, because I can hear that the heat is running downstairs (it whines when it runs downstairs), Snowy is singing, Willow is sleeping, Leo LaPorte is helping people via podcast, and I'm about to finish a purchase order.
I am pondering...
...sorry, appropriate canine diets. It's about all I can think about now.
A favorite quote for today...
"I've seen a look in dogs' eyes, a quickly vanishing look of amazed contempt, and I am convinced that basically dogs think humans are nuts." . . . . . . . John Steinbeck
Yeah, me too, and I'm one of them.
One of my favorite things...
...sleep. I wish I could do it now.
A few plans for the rest of the week:
The usual grocery shopping. James works Saturday. That's as exciting as it gets, and what with Wil having been sick, that's just about all I can stand. Maybe more sleep?
A peek into my day...
Can't take a photo of Snowy singing without breaking his rhythm. Here's a link to some budgie song instead:
Budgies Singing
If you'd like to participate, check out
The Simple Woman's Daybook
.
Labels: Simple Woman's Daybook