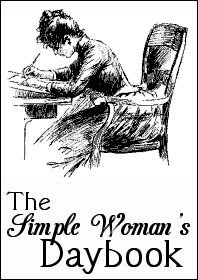 FOR TODAY, December 11, 2013
Outside my window...
...right now it is sunny, not a cloud in the sky; after nine days of clouds/rain, it cleared up yesterday afternoon and got very chilly. It was 29°F this morning.
I am thinking...
...by golly, I'm getting old. I will officially be 58 tonight at 11:30 p.m. since I missed being born on my dad's birthday by a half hour.
I am thankful...
...for today! When I arrived at work, the power was out, and had been out since 7 a.m. I heard two different stories: that a transformer was out and that a car had hit a light pole. The entire University Park complex was without power, as well as the neighborhoods nearby. So I basically came in, wound my way to my new office, ate my yogurt (new kind, mocha from Dannon, which doesn't taste much like coffee or chocolate) since I couldn't heat up water for my oatmeal, and then sat in the hallway near the window reading
Christmas in Germany
until they cut us loose. So I am home teleworking on my birthday.
In the kitchen...
...there's birthday cake! Brought it home from my mother-in-law's house Saturday; it was half for me and half for my sister-in-law Candy, whose birthday is the day before mine.
I am wearing...
...purple sweatshirt, gas flame blue sweatpants, white socks, and blue scuffs. Not cold enough to wear slippers, and even when it is, I can't wear them working at the computer. Static electricity is a Bad Thing.
I am creating...
...purchase orders and a nice day, since I can spend it with Willow and Snowy. Snowy is our new budgie. We actually bought him, but he's more like a rescue. The other birds must have been bullying him: he's missing all his tail feathers and he looks like they sat on him. We discovered why when we got home: he has a lame foot. Only one toe out of four on his right foot works properly. I have to find out if we can buy any kind of perch which will make him more comfortable, but still strengthen what grip he has in those toes. But he's bright-eyed and eats well. I've even heard him grinding his beak, which means he's content. If I can make him happy, then I have created rightly. :-)
I am going...
...to make supper tonight. We have six chicken drumsticks and I will make cacciatore and ask James to stop at Publix for a loaf of French bread to zoop in the gravy. A birthday dinner most wonderful!
I am wondering...
...how many more Christmas gifts I have yet to buy. It's only a few, but I think I can only tell if I wrap the others. At least two of the Christmas gifts I mailed have reached their destinations, so I'm very happy!
I am reading...
...
The Big Book of Christmas Plays
, from 1988. Remember doing Christmas plays at school? This is a collection of them. I found it at the book sale this fall. I remember having to pick out the 6th grade Christmas play. It turned out to have a nice role for my best friend. :-)
I am hoping...
...to get the Christmas tree up Friday. I am dreading it because I have to string new lights on the tree. I love decorating the tree, but putting lights on a Christmas tree falls about number ten of things I hate.
I am looking forward to...
...Christmas gatherings! One with friends, one with the family, New Year's Eve, and finally our party!
Around the house...
...a bit neater than last week, but catalogs, Christmas magazines, books everywhere.
I am pondering...
...strangeness: people who call 911 over not getting their hash browns at McDonalds, parents who starve babies, kids who kill other kids. Why?
A favorite quote for today...
"Christmas...is not an external event at all, but a piece of one's home that one carries in one's heart." ...Freya Stark
One of my favorite things...
...Christmas specials! Will watch some tonight!
A few plans for the rest of the week:
Purchase orders, purchase orders, purchase orders and then decorating, decorating, decorating.
And trying to persuade Snowy I'm not going to eat him.
A peek into my day...
...big-eyed budgie:
If you'd like to participate, check out
The Simple Woman's Daybook
.
Labels: Simple Woman's Daybook