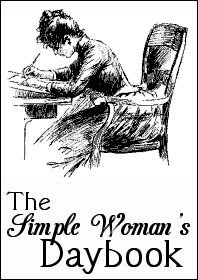 FOR TODAY, OCTOBER 8, 2013
Outside my window...
...cloudy, actually, with a brisk wind blowing from the northeast! I wish it would stay like this; I am in my usual tank top and shorts summer gear and I'm cold. Can't believe it's supposed to be eighty this weekend.
I am thinking...
...how quiet it is. We always had the television going for Schuyler and sometimes I became so sick of it. I'd put podcasts on when I teleworked, which she didn't mind, but the dog hated because I used an external speaker.
I am thankful...
...for the cool! We really did have not a bad summer; most of the time when it was hot there was a breeze. Of course it was blazing hot for DragonCon, but that's typical.
In the kitchen...
...just finished washing out the little pyramidal silicone gadget we've been using for cooking chicken. Really like it for keeping the chicken out of the grease. Unfortunately the dishwasher doesn't clean it; you have to do it by hand.
I am wearing...
...same old black tank top and shorts and black scuffs. My toes are cold but I'm not sure I want to put on something heavier because there are books I want to put up and a couple of boxes I need to "rehome."
I am creating...
...a gift, if I ever get it started. I have some book reviews to do this morning, or surveys for credit, and the kitchen floor needs mopping.
I am going...
...to have to get hustling, because I wasted so much time on the router last week. The shelving and the kitchen floor should have been done back then.
I am wondering...
...still wondering why the router messed up when it was the modem I had to reboot. I guess that is one of those mysteries of computer use that I will never understand.
I am reading...
...just finished
Naughty in Nice
(which is why this is being submitted so late), the fifth in the "Royal Spyness" mysteries. This was "a cracking good one," with a stolen necklace, a purloined snuffbox, a devastatingly handsome French marquis...and more. I'm still reading
About Time #7
, but that is a very dense book, between the
Doctor Who
episode analyses and the lengthy essays, all in teeny-tiny type.
I am hoping...
...one of the two coming weekends will be
cool
on Sunday. We have lucked out three years in a row for the Georgia Apple Festival, and the last thing I want is to be plonking around the Lions' Club field when it's 80 degrees.
I am looking forward to...
...the Apple Festival and all those nice ripe fresh-off-the-tree apples instead of the mealy ones you get in the grocery store. When you bite into them they go "snap!" And oh, the delicious sourness of the Granny Smiths!
I am learning...
...actually, I just learned a lot from a children's book: the "Dear America" book about the Alamo. What is it you learn in the pell-mell education that is history class: Americans, settled in Mexican territory, want to be free. They take a stand at an old mission known as the Alamo and are bitterly defeated, but eventually do gain their independence. This talks about so much more than that, including the battle for the tiny cannon in Gonzalaz, and the settlers having to flee east to escape the soldiers.
Around the house...
...dog's asleep. There's a bag waiting for me to take it downstairs...and it's already almost ten o'clock. All the fresh air in the house is already making me sleepy.
I am pondering...
...time. Why it goes so quickly when you are enjoying yourself, and why it goes by so slowly when you aren't. Madeleine L'Engle always talked about Chronos and Kairos, regular time and spiritual time. Certainly these quiet days are Kairos.
One of my favorite things...
...I
hope
recorded on the DVR, because there was a stupid football game on last night instead of
Castle
.
A few plans for the rest of the week:
Currently, that depends on my employer. :-) But I hope to clean, sort, and write. And go to the book sale on Friday.
A peek into my day...
The photo I would have put here would have been from last night. I let Willow out and then went to pull the clothes out of the dryer. When I came out of the laundry room, there she was, standing at the screen door, patiently wagging her tail and looking adorable. Picture a small brown dog with big brown eyes, looking hopefully through the screen...
If you'd like to participate, check out
The Simple Woman's Daybook
.
Labels: Simple Woman's Daybook