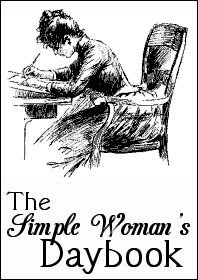 FOR TODAY, SEPTEMBER 17, 2013
Outside my window...
...it's a cloudy day right now, which suits me fine. Since it is still relatively cool (71°F), cloudy, and breezy, I can have the windows open as I work. I even have the front door open a bit so the crossdraft is coming through fine. Eventually the sun will come out and the A/C will kick on, but right now it's nice.
I am thinking...
...how long it's been since I've done one of these. End-of-fiscal-year gets worse every year, and it seems to get longer every year. Or maybe it's just because the time doing things I enjoy goes by so quickly that it just appears long.
I am thankful...
...for a cool day and not a bad summer. It rained much of the summer and even when it was in the 80s, there were nice lush breezes most of the time. It even stayed relatively okay for DragonCon (coupled with our "chill cloths," which really did help) and was only bad, sadly, for the Yellow Daisy Festival.
In the kitchen...
...crickets are chirping. I have washed out one of the goose-themed canning jars to put James' soy crackers in, though.
I am wearing...
...purple and blue spotted black top and aqua shorts and my black scuffs. Nice and cool working here at home. Have finished one purchase order and going on to another.
I am creating...
...I have to clear off the rest of my craft desk, but I have a few little projects I need to get cracking on for Christmas. I bought something for a relative, and have other little bits and bobs to go to friends.
I am going...
...er, crazy? No, that was a few weeks back. I think I've skipped crazy (which should put a hoodoo on me for sure). Going to a birthday dinner soon! Going to the Georgia Apple Festival and the Friends of the Library book sale in October.
I am wondering...
...when the vet is going to help us with Willow's problem. They mention her heart murmur—well, she
is
fifteen!—and the possibility she might have Cushing's disease (which they've talked about for the last seven years), but nothing about the house training aberrations.
I am reading...
...
About Time
, Volume 7, by Tat Wood from Mad Norwegian Press, an examination of the Christopher Eccleston and first season of David Tennant
Doctor Who
episodes, as well as Alexandra Horowitz's
On Looking.
I am hoping...
...for Autumn. Soon.
I am looking forward to...
...isn't this the same question? LOL. Aubrey's birthday dinner. And September 30.
Around the house...
...well, it's later, because I didn't have time to finish at lunch. The sun came out and I had to close the windows, so it's quieter: I can't hear the fans or the cicadas in the trees behind the house. Willow has shifted position from the chair to the top of the stairs, better to see her Daddy coming, so her collar tags are jingling. Schuyler's half asleep, and Leo LaPorte is talking about the newest iPhone with fingerprint ID. Otherwise it's quiet.
I am pondering...
...people, again, specifically the Miss America incident. If you've been living without news for a few days, the new Miss America was born in Syracuse, New York, and is of Indian heritage. After her award, a barrage of tweets and other social media posts accused her of being a "terrorist," a "foreigner"—and those were the
nicer
comments
.
What is
with
people?
A favorite quote for today...
Found this on a Charles Wysocki painting; ah, now there's nice weather for you!:
"The sharp wind wails and blows its whistle,
Piercing the meadow and cutting the thistle;
Stabbing, jabbing, pounding the doors,
Rattling the hinges then over the moors;
Wild and invisible it darts and whips,
Kissing the land with cold, cold lips;
Hear now the cry of the forest trees,
As the wind moans a promise to cover and freeze."
One of my favorite things...
...James is making homemade pizza, with diced tomatoes, bacon, black olives, and cheddar cheese. Yum!
A few plans for the rest of the week:
Finishing those dang purchase orders, if ICE doesn't finish me off first. I had two purchase orders completely finished and just finished another...and then ICE lost
the entire thing
. I had to rebuild and retype it all. Phooey.
A peek into my day...
Oh, come on, like you
want
a photo of a red-faced me screaming at my computer. So much for the 90 over 50 blood pressure reading I had last week! Here, watch Peter Davison play the guitar accompanied by Sylvester McCoy on spoons instead. Much better viewing!
If you'd like to participate, check out
The Simple Woman's Daybook
.
Labels: Simple Woman's Daybook