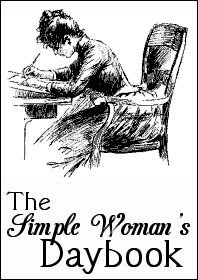 FOR TODAY, JUNE 6, 2013
Outside my window...
...I'm doing this at lunchtime, so it's mostly sunny. The sunlight looks a bit watery, so I assume it's very cloudy. I "assume" because I've been working since breakfast and I've had time to notice that Mr.
Cardinal was at the feeder and that's about it.
I am thinking...
...it's D-Day. In one year it will be the 70th anniversary. I'm thinking of all those men on the landing crafts. There were some older guys, but most of them were merely kids, high school graduates, college boys, young men just starting their careers in the civilian world. Riding a bouncing craft on a heavy sea, shouldering a heavy pack, rifle in hand, knowing in a few minutes the LCT will stop, they'll have to wade ashore, probably in a hail of gunfire...how scared they must have been. But they did it anyway. Extraordinary.
I am thankful...
...for their courage.
In the kitchen...
...I suppose I ought to get something to eat. I'm getting a headache. I've been making phone calls and sending e-mails and generally following up on things. I had three orders signed yesterday and am waiting upon the verdict of another three.
I am wearing...
...black tank top and shorts, purple and white flowered scuffs. For once I'm cool!
I am creating...
...LOL. This column! I don't seem to get to it much anymore. By the time I finish work it's hard to go back to a computer.
I am going...
...no longer; I finished what I was going to do, make a grocery list. We need slivered almonds, bread for my lunches...everything's at different stores! We need a trip to Trader Joe's (and I want my gourmet chicken salad back...big
fail
, TJ's, for not making it anymore).
I am wondering...
...when we will finally go to McKay's again. We've been planning another trip since...February? And it's June already!
I am reading...
...I just finished
The Apprentices
, the sequel to
The Apothecary,
more swell kids'-adventures, but more adult than those 1940s-1950s books used to be. Great sweeping chapters carrying you from one adventure to the next.
I am hoping...
...well, gosh, I'm hoping Trader Joe's will see the light. I really
liked
that chicken salad; it was the only chicken salad I've ever really liked.
I am looking forward to...
...Tuesday. James works on Saturday and has Tuesday off, and I've got a few extra leave days and will spend this one with him. We're thinking about Olive Garden for lunch as we have a coupon.
I am learning...
...about more computer apps (I'm listening to the May 13th edition of "This Week in Tech"; they're talking about Twitter—how tiresome).
Around the house...
...it's a mess. Need to tidy up tomorrow. I hope. If I don't get distracted by a book, one of my favorite things to be distracted
by.
I need to finish some book reviews, too.
I am pondering...
...this year's vacation. James wants to relax a bit this year; I hate to waste a week off and not do something different. I can do nothing at home. Still trying to find something pet-friendly between Gatlinburg and Asheville. I'm dying to see Biltmore House decorated for Christmas and Gatlinburg done up for the holidays, too.
A favorite quote for today...
This is so lovely. I found this in
More Scenes from the Rural Life
, which I got from Amazon Vine:
"I look back and wonder what I've been doing innately since childhood, and I can think only of this. I've been picking up words one by one, feeling their heft, wondering who's used them before, and slowly adding them to my permanent collection."
. . . . . Verlyn Klinkenborg
One of my favorite things...
...what I'm listening to, "This Week in Tech." I like best when John Dvorak and/or Jerry Pournelle are on. Dvorak especially is always such a curmudgeon that it's fun to listen to him even if I don't agree with him.
A few plans for the rest of the week:
Housework!
A peek into my day...
Here. Buy it. Borrow from the library. Something to make you feel like a kid again:
The Apothecary
If you'd like to participate, check out
The Simple Woman's Daybook
.
Labels: Simple Woman's Daybook