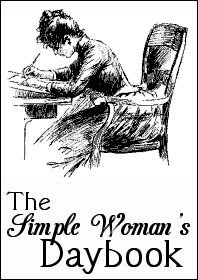 FOR TODAY, MAY 21, 2013
Outside my window...
...getting on toward sunset; I had no time to write this morning. The birds are taking their last bites from the feeder as the cool sunset wraps around the grove of trees behind the house. Look at that brisk little chickadee on top of the hook.
I am thinking...
...I'm in no way ready for summer, but today I took the freshly-washed jackets and scarves and hats and gloves and put them up in the closet. Now it's time to watch the calendar until October, with end-of-fiscal-year standing there like a Death's Head in between.
I am thankful...
...that I've finally been able to complete a craft project! I almost don't want to do anything after work anymore, my head aches so, especially when I have to drive in. I'm not sure what bothers me most, the commute or the fluorescent lights. Even the sun seems kinder than the lights!
In the kitchen...
...James is slow cooking a piece of London broil. We had about a third of it tonight as "beef bits" with mushrooms, onions, and cashews, with ramen noodles on the side, and now he's cooking the rest with wine.
I am wearing...
...definitely in summer stuff now: black shorts and tank top, and some white socks to keep my tootsies warm under the A/C.
I am creating...
...I've just finished painting the last bit of the "Me Shelf." (It's really "Shelves," I suppose.) Need to find a way to prop the "World Book" up a bit.
I am going...
...(I hope) to have a good rest this weekend, and have some fun as well. I can hardly believe it's Memorial Day weekend already! Of course, James isn't even sure yet whether he's working the holiday or not.
I am wondering...
...how I can find more time in a 24-hour day and not lose sleep at the same time. My verdict: Impossible!
I am reading...
...just finished
Duel With the Devil
, about Alexander Hamilton and Aaron Burr's real-life team-up in a murder trial four years before the famous duel. The author paints a very vivid picture of turn-of-the-century (the 19th century, that is) New York City. Still in progress on some other books.
I am hoping...
...to sleep tonight! I hate going to work with less than five hours sleep.
I am looking forward to...
...Sherlock Holmes, the Doctor, books-books-books, and various other surprises this weekend.
I am learning...
...rather, I'm relearning how to do a Blanket Purchase Agreement. Haven't done one in years.
Around the house...
...television is on, the bird just clucked, the dog has taken advantage of James' absence to commandeer his recliner. I just vacuumed and there are onionskins on the carpet. Yeesh.
I am pondering...
...unfriending people on Facebook. I friended several persons just to play Farmville and don't play any longer. But I don't want to hurt anyone's feelings. So what do you think?
One of my favorite things...
...wildlife shows. It's time to watch
North America!
It begins with the most adorable mountain goats. I'm waiting for the bit about the fox pouncing in the snow.
A few plans for the rest of the week:
A day off, a day out, maybe a book shipment, and Amazon Vine!
A peek into my day...
It's late, and I think I'll skip this this week. Perhaps next week I can do better.
If you'd like to participate, check out
The Simple Woman's Daybook
.
Labels: Simple Woman's Daybook