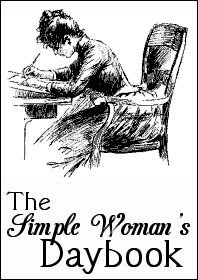 FOR TODAY, APRIL 4, 2013
Outside my window...
...still cloudy at the moment; it rained most of the day, and for April in Georgia, bitterly cold (in the 40s otherwise...LOL). The birds are quarreling over the feeder, and I notice that Mr. Goldfinch is about halfway through his spring molt. Where his feathers have changed he is quite startlingly yellow!
I am thinking...
...I wish I could go back to sleep. On a cloudy, damp, rainy day, the dimness of the spare room is soooo tempting. Soft futon, soft pillows, soft fleece blanket. Oh, my.
I am thankful...
...for evening, and the day's work being done. I despair of getting anything finished. Everyone wants everything now. And a bunch of things are so far behind already.
In the kitchen...
...it's quiet. I cooked Tuesday. Once a week is enough!
I am wearing...
...my "soft kitty" grey t-shirt and "Mutts" green flannel pants with white socks and blue scuffs.
I am creating...
...purchase orders, I hope! Most of the day I spent resolving things via e-mail. My only phone call was spam.
I am going...
...to go looking for a blouse or something on Saturday. It's a dirty job, but I suppose I should, just to wear something brighter to Sabra's wedding. I don't count on finding anything, though, although I'd almost like to find something in a mint green.
I am wondering...
...if things will ever calm down at work. Oh, it's calm on the surface, but below that it's about to bubble up. I wish, I wish I had time to actually devote to things rather than having to rush from one thing to another. I have some things that have been hanging for a couple of weeks because all I've had thrown at me since then are things that are "just about to expire."
I am reading...
...
Two for Sorrow
, a Josephine Tey mystery by Nicola Upson; still in the middle of Walter Cronkite's war letters, a biography of Louis Agassiz,
The Great War and Modern Memory
,
A World of Curiosities
, and Baring-Gould's Sherlock Holmes bio.
I am hoping...
...to sleep late Saturday. That's all I want to do anymore. I wonder when our new mattress is coming!
I am looking forward to...
...Sabra's wedding, but not the weather for Sabra's wedding. It will probably be in the 70s that Saturday. Yuck!
Around the house...
...James is lounging in his recliner, with Willow at his feet. I think she's finally figured out we are not going to feed her anything else. Schuyler is set on the sofa table in front of me. We're all watching
North Woods Law
, a reality show about Maine game wardens. There's a pile of books I want to review next to me, but I'm getting a headache from my glasses and am pretty miserable now.
I am pondering...
...retirement. But I don't have enough time or years yet.
A favorite quote for today...
"I had a wonderful dream...that I was asleep." . . . . . Hilary Booth
One of my favorite things...
...potstickers! We had them for supper tonight (boiled, not fried), with sweet corn, and a Cadbury chocolate-filled egg for dessert.
A few plans for the rest of the week:
More purchase orders. Making it home safely tomorrow. Shopping for clothes (yuck).
A peek into my day...
It's 9:30 p.m. and I'm too sleepy to mess with a photo and Paint Shop Pro. Just imagine the little birds fluttering around three long green bird feeders. There's the grey titmouse with his big black eyes, like a tiny owl with a cowlick. The impatient little sparrows in their natty stripes jockeying for one of the perches. The cute little brown-headed nuthatches creeping head first down the feeder to grab a safflower seed. The dapper chickadees flicking their heads and tails as they perch on the curved feeder supports. The dour cardinals who barely fit on the perches sit and chip disconsolately in the rain. On one feeder, the cowbirds, he in dull black with a chocolate brown head and her in nondescript brown, eat by themselves. Too bad the other birds don't know what they will pull during nesting season and chase them out of the neighborhood. Freeloaders!
If you'd like to participate, check out
The Simple Woman's Daybook
.
Labels: Simple Woman's Daybook