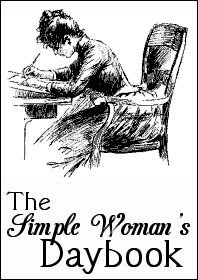 FOR TODAY, APRIL 30, 2013
Outside my window...
...still quite dark and cloudy, although it's supposed to clear up and get warm. I finally refilled the bird feeders last night and I see Mr. Cardinal perched awkwardly on one, chipping distractedly.
I am thinking...
...not much of anything as I get dressed. I am feeling a bit poorly this morning and have to get myself in gear to start working in a few minutes. I have an advertisement to compose and need to check the wording. It's quite important, as it is for something that helps with vaccine shipments.
I am thankful...
...that it's been not a bad April. The pine pollen lasted only a very short time and most of the month has been cool. The one drawback has been the rain, which seems to occur mainly during rush hour. Traffic has been berserk since it got a little warmed, and having "the Final Four" in town earlier in the year didn't help. Would that they really were
final
.
In the kitchen...
...nothing going on at all. James has to wait on a prescription at Kaiser tonight, so we are having quick and dirty Hormel beef tips over spaetzle, and a cucumber salad.
I am wearing...
...it's warm enough to be back to shorts: black tank top and shorts, and my purple and white scuffs. By the end of the day I will probably have to switch the A/C back on, since it will be in the 60s tonight and we won't be able to sleep.
I am creating...
...potential purchase orders. Lots more paperwork since the reorganization.
I am going...
...to give Schuyler's cage a scrub sometime this week. She and Willow are going for their checkups on Friday. Just going to make their day. Willow has a lump on her right hind leg, on her knee, and we need to have that looked at, too.
I am wondering...
...when our new bed is going to show up! We got a call to tell us it was shipping, and now I haven't heard anything further. [Later: I called. They are arranging things with their delivery company and he is hoping to have someone here on Thursday.]
I am reading...
...Susannah Charleson's new book about training therapy dogs (which is just as engrossing as her
Scent of the Missing
, about the training of her search-and-rescue dog Puzzle), and the Daisy Dalrymple mystery
Murder and Mistletoe
.
I am hoping...
...the bed will improve my sleep. I'm starting to have pain in my hips because the bed is so firm, but still need the back support, so a soft bed will not do.
I am looking forward to...
...as it's spring, not much coming up until fall! I'm always looking forward to fall! (Okay, Timegate. I've seen Tom Baker and Jon Pertwee and Patrick Troughton (the day before he passed away!) and Peter Davison and Sylvester McCoy, but have never seen Colin Baker. And of course DragonCon, but that's September and there's other problems with September.)
I am learning...
...no time for that while I'm working. When I get home/finish I am tired and my eyes always hurt. After I retire I would love to take a class on how to put together a proper gift bag. Would love to take a photography class.
Around the house...
...cool and quiet right now. I have had to turn down the ceiling fan for now, even though it is 69°F in the house. I always worry about Schuyler getting a draft. I'll probably put it on in a hour or so.
I am pondering...
...sleep. But must ponder work instead.
A favorite quote for today...
"Some people walk in the rain, others just get wet." . . . . . Roger Miller
When you commute, you just get wet. And fear for your life on the freeway.
One of my favorite things...
...on last night:
Castle
, which was a "clip show" (or as I've heard them called, "bread and butter shows," because they help a series' budget). We found out Captain Gates has indeed been paying attention. LOL. The very best "bread and butter" episode I ever saw was "The Trial of Phineas Bogg" on
Voyagers!
, which told a good story, introduced a new villain, showed a multitude of clips, and otherwise only had two sets.
A few plans for the rest of the week:
Trucking the critters to the vet. [And maybe a mattress.]
A peek into my day...
The one picture I'd love to show I didn't have a camera to get: there was a mockingbird eating out of the feeder last night. You almost never see a mockingbird on a bird feeder. Instead, here's Mr. Wren sitting on James' anemometer singing his little heart out.
If you'd like to participate, check out
The Simple Woman's Daybook
.
Labels: Simple Woman's Daybook