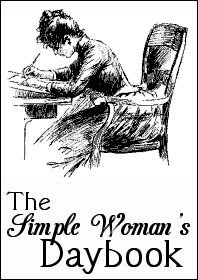 FOR TODAY, APRIL 23, 2013
Outside my window...
...as Corporal Klinger once said, "It's
spring
, sir!" I can see lots of leaves, but no birdies today because I haven't filled the feeders. Every time I think of it, it's about to rain.
I am thinking...
...I would have liked winter to last a little longer. I guess I should move to Minneapolis or Denver, right? LOL.
I am thankful...
...for things starting to settle down at work. I was really getting dismayed at the delay in getting work done.
In the kitchen...
...the leftover barbecue pork is gone. We had it for supper with our "Smack Yo' Mama" barbecue sauces. If you mix "Sweet Georgia Brown" with "Big Kahuna," you get a pretty nice flavor.
I am wearing...
...blue "Mutts" pajamas and tan socks. The usual until it gets really warm.
I am creating...
...relaxation. Had some things going today at work, was frustrated by having to make a call to the Georgia Department of Revenue (the Post Awful returned our $15 check) and no one answered the phone, and made yet another attempt with TruGreen (she swears this time the tech will always be warned to ring the doorbell).
I am going...
...to be stuck at home on Saturday, I see! It looks like it's going to pour. Hopefully it will stay dry for TruGreen to come on Friday. The back yard is full of weeds because the yutzes either don't call before they come, or don't ring the doorbell when they do come.
I am wondering...
...already thinking about vacation this year, but it's so far, far away right now. And there's something else I'd like to accomplish before that.
I am reading...
...just finished Tasha Alexander's
A Crimson Warning
, while still working on
Bird Sense,
the Louis Agassiz biography and
The Great War
, not to mention
The Victorians
and the dog book...trouble is, there are so many other books calling me right now.
I am hoping...
...our new bed is delivered soon! They're supposed to call this week.
I am looking forward to...
...well, the new bed. And a bit afraid, too. This bed is very firm and I love it, but it's almost too firm. The memory foam we picked is firm, but not as hard as we have now. So I'm hoping we get good support from it.
Around the house...
...we're watching
Storage Wars
. Schuyler is tossing one of her bells around. It's her birthday today. She's had a grape and a chance to sing to the radio.
I am pondering...
...Schuyler. In six years I haven't been able to figure her out. She wants attention, but won't sit on my finger. She did while she had the conjunctivitis, but only because the vet had clipped her wings and she couldn't go far. Yet she'll beg for oatmeal, wants to nibble on my shirts, isn't afraid to travel...she's such a curiosity!
A favorite quote for today...
"Anyone who stops learning is old, whether at twenty or eighty. Anyone who keeps learning stays young. The greatest thing in life is to keep your mind young." . . . Henry Ford
One of my favorite things...
...sleep. I'll be doing that in an hour.
A few plans for the rest of the week:
Well, TruGreen is supposed to be here on Friday. Supposed being the operative word. Maybe the bed. James has to work Saturday. And this weekend is the Jonquil Festival.
A peek into my day...
The birthday girl, of course! Age six...
If you'd like to participate, check out
The Simple Woman's Daybook
.
Labels: Simple Woman's Daybook