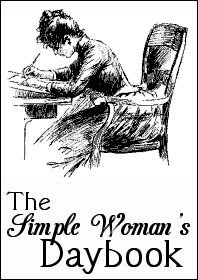 FOR TODAY, FEBRUARY 21, 2013
Outside my window...
...the sun is low in the east. I'm going to miss seeing the sun rise soon, since we'll be going back to Daylight F***ing Savings Time on March 10. [I don't excuse the language. I despise DST. It ranks up there with cheats and spinach.]
I am thinking...
...of all the different things I have to do today that are held up by other things! How frustrating. I need to advertise something...if I ever get an answer from someone. I need to award something...but the awardee needs to get back to me about something. And so on.
I am thankful...
...I'm done with the flu (although I have to admit that sleeping almost all day last Wednesday was actually very nice—I always feel short of sleep, no matter what). The cough was not fun.
In the kitchen...
...soon some chicken will be defrosting for tonight's dinner. But as of now it's quiet.
I am wearing...
...my green "Myriad" sweatshirt, grey sweatpants, purple socks and powder blue scuffs. Not to mention a sleepy face.
I am creating...
...potential purchase orders. That's about it.
I am going...
...to have to do some shopping this weekend. Some good bargains expiring at Costco on Sunday. Also Bed, Bath & Beyond coupons. I really, really need new pillows.
I am wondering...
...how bad the rain is going to be tomorrow. I don't just hate driving in the rain—liquid stupidity falling from the sky—it actually scares me. Driving freeway speeds...crazy drivers...frightening all around.
I am reading...
...
The Victorians
by A.N. Wilson,
The Great War and Modern Memory
by Paul Fussell (the illustrated version, which is terrific), and still slogging through the Louis Agassiz bio (not the writer's fault; Agassiz is just so self-absorbed!).
I am hoping...
...the rain tomorrow won't be as bad as they fear. They're talking about two inches or more.
I am looking forward to...
...sleeping late on Sunday. (Hm. I sense a theme here.)
Around the house...
...the computer hums. Schuyler is grinding her beak. Willow has gone back to sleep.
I am pondering...
...change. I generally don't like change. It never comes with any hope...
A favorite quote for today...
I'll continue a theme: "No wonder they shoot people at sunrise. Who wants to live at six in the morning?" . . . Hawkeye Pierce
One of my favorite things...
...chicken cacciatore. I think I'll make some with the chicken I'm going to defrost. But there's no bread to zoop. Perhaps that's for the best.
A few plans for the rest of the week:
Costco and BB&B visits. Not much else.
A peek into my day...
A cuteness of budgie:
If you'd like to participate, check out
The Simple Woman's Daybook
.