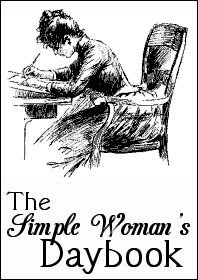 FOR TODAY, FEBRUARY 12, 2013
Outside my window...
...it's a cloudy day again. It seems like it's been raining forever.
I am thinking...
...I picked a hell of a day to be sick! I had two meetings I needed to go to and instead I had to listen to them. One made sense and the other people were talking so much it got a bit garbled.
I am thankful...
...for my nice warm bed. I wish I could have slept in it last night.
In the kitchen...
...it's quiet. It's funny; I'm hungry, but I can't bear the thought of warming something up and eating. I've had some cereal, a plain piece of bread, milk, and my breakfast—oh, and some peppermint tea.
I am wearing...
..."Mutts" pajama bottoms with Earl and Mooch on them, and a "Soft Kitty" t-shirt (from
Big Bang Theory
). And purple socks.
I am creating...
...nothing. What I want to create is wellness. Coughing all night is a PITA!
I am going...
...nowhere at this point. The most I've done today is listen to two meetings and order a book I discovered I didn't have, using my points on Amazon.com.
I am wondering...
...really wondering where this cold came from. I haven't really been in any big crowds. Of course I don't have a fever. We've been cleaning at work and there's been a lot of dust in the air. I've had allergic bronchitis before. I hope this isn't it again.
I am reading...
...
The Letters of Dorothy L. Sayers
, volume 1;
The Great War and Modern Memory
by Paul Fussell;
Elemental Magic
, a group of short stories based on Mercedes Lackey's Elemental Mage universe; oh, and a biography of Louis Agassiz.
I am hoping...
...I'll be well for the weekend, but my nose is getting stuffier as we "speak." Wretched thing.
I am looking forward to...
...things being settled at work and being able to get back into a routine. Change makes me uneasy. I don't sleep well and I get other physical reactions.
I am learning...
...I should keep my mouth shut to people who don't have the right information.
Around the house...
...I'm playing "The Tech Guy" because Schuyler hates it when it's quiet. I can't blame her; when birds are quiet it means there's a prey animal around. I took a nap, but it's not easy settling down because eventually I start coughing again.
I am pondering...
...not feeling well enough to think. It's taking enough energy just to write this blog entry, but I don't feel like turning into a complete slug.
A favorite quote for today...
"[B]eing sick feels like you're wearing someone else's glasses" ― Megan Boyle
.
Actually today it feels like I'm wearing someone else's lungs.
One of my favorite things...
...can I name a few of my hated things today instead? Icing/frosting. Child molesters. Spinach. Breaded/battered and fried anything. Math.Whatever that pre-bottled spice is that they refer to as "Italian seasoning." Spaghetti sauce with sugar in it. Meatballs/hamburgers. The Westboro Baptist Church. The freeway when it rains. Cowbirds. Borders being gone (ditto Woolworths). Fluorescent lights. Spousal abuse.
And, yes, the damn cough.
A few plans for the rest of the week:
Well, James has Friday off, but since I'll probably be sick, what's the use of even planning?
A peek into my day...
Naw, I think you've had enough of Linda the Grump. We now return you to your regular program already in progress. Even Justin Beiber has to be an improvement on me right now.
If you'd like to participate, check out
The Simple Woman's Daybook
.
Labels: Simple Woman's Daybook