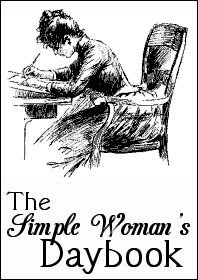 FOR TODAY, DECEMBER 20, 2012
(goodness, I haven't really done one of these in ages)
Outside my window...
...raining, dark and dreary, while I ponder, weak and weary...wait, wrong season. It is grey and drear, though.
I am thinking...
...I wish I'd gone outside last night and filled the bird feeders. I will have no opportunity to do it today. When I first got up, there was an assortment of wet waifs perched all over it: a wren, "Mrs" downy woodpecker, two brown-headed nuthatches, and a female goldfinch. Now it seems to be all house finches.
I am thankful...
...I appear to be better than yesterday, when I was chivvied into the bathroom with multiple instances of stomach cramps. I finally came home from work and curled up under a blanket on the sofa. I am most thankful that Schuyler's right eye is now back to normal.
In the kitchen...
...nice and tidy. James cleaned it while he was off yesterday. Need to figure out something for supper.
I am wearing...
...blue "Mutts" pajamas, Earl in his basket with stars all over the navy blue pants, and Earl's face and hearts on a light blue top.
I am creating...
...well, Tuesday evening I finally cleaned off the craft table in my craft room and I am hoping in the next two weeks I may have time to work on the "me" shelf.
I am going...
...not sure where I am going. I thought after fiscal year things would quiet down, but first there was preparing for and going on vacation, then Schuyler got sick, then it was Thanksgiving, then it was time to decorate for Christmas. It's been like one big merry-go-round.
I am wondering...
...why the tape player, which was inexplicably not working on Tuesday, is now inexplicably working today, but I will not look a gift horse in the mouth. :-) Right now the Norman Luboff Choir is on.
I am reading...
...
The Dreaded Feast
, a collection of short, cynical pieces about Christmas. Just finished the book I bought in Williamsburg,
Four Centuries of Virginia Christmas.
I am hoping...
...the time will
quit going by so fast
. Summer goes by like a constipated snail. Woosh...October comes and it's on falcons' wings, into November, now it's December and then it will be January and the next thing we know it will be February and getting warmer again. It hasn't really even gotten cold
now
. It gets cold for a few days, then goes back up into the high 60s. UGH.
I am looking forward to...
...being off for seventeen days in a row...almost as good as being on vacation. And all Christmastide, so there will be Christmas, and visiting friends and relatives, and New Year's Day and the Twelfth Night party.
I am learning...
...I don't like clutter as I get older and really want to do something about it.
Around the house...
...Christmas music, of course. I've now gone on to Mantovani. During lunch I need to vacuum.
I am pondering...
...now that all the aching back part of Christmas prep is over, should I make my back ache again by washing the dog?
A favorite quote for today...
"Christmas is not a time nor a season, but a state of mind. To cherish peace and goodwill, to be plenteous in mercy, is to have the real spirit of Christmas." . . . . . Calvin Coolidge
So for gosh sakes, folks, quit knocking people over to get the last toy and putting yourself into debt to buy Christmas gifts "to show your family you love them." That's not what Christmas is all about.
One of my favorite things...
...going out looking at Christmas lights. We've been doing that for the last couple of weeks. Coming home from the ARTC performance on Saturday we drove through the side streets checking out the lights!
A few plans for the rest of the week:
Want to bake some wine biscuits. Only have them once a year. But I want to go to Richard's, too. Just a small slice left of what it was like when the five-and-ten cent stores were around. I acutely miss so many people all year round, but Christmas
really
reminds me of the
places
I miss: my grandpa's house at Christmas, Woolworths, Newberrys, Grants, the Paperback Book store on Weybosset Street, the Outlet Company, lovely Shepards...Oxford Books and my lovely, lovely Borders. I've gotten so many things at Amazon, but it's just an online store. Borders was in my heart.
A peek into my day...
"Sisters, sisters, there were never more disinterested sisters..." LOL.
If you'd like to participate, check out
The Simple Woman's Daybook
.
Labels: Simple Woman's Daybook