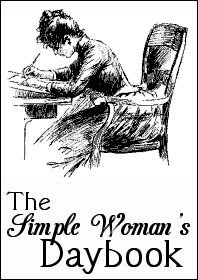 FOR TODAY, OCTOBER 9, 2012
Outside my window...
...it's cloudy right now, and cool. We have had two excellent nights in the 40s for sleeping, during both of which I have been up in the middle of the night sick. Phooey.
I am thinking...
...about things that are undone that ought to be done, and I'm not talking about the laundry. :-(
I am thankful...
...for the respite from the heat, although I wish it had been for this coming weekend!
In the kitchen...
...even the dishes are washed! Hurrah!
I am wearing...
...an Owly T-shirt and turquoise scrubs pants, with white socks and blue scuffs.
I am creating...
...internal conflict.
I am going...
...to continue to take it easy today. I still don't feel very well. This started after I ate a combination of barbecue pork, cole slaw, and watermelon. Strange.
I am wondering...
...why I can't react to things like other people, and do things other people take matter-of-factly?
I am reading...
...
To Davy Jones Below
, the next Daisy Dalrymple mystery. This, as you might suspect, is a shipboard mystery.
I am hoping...
...a search I was hoping to start on Monday and got kiboshed will happen successfully. Of course it has to happen successfully for me to do something else. (I have to go shopping for dress clothing. I dread it.)
I am looking forward to...
...the Mistletoe Market, the Cobb County Library book sale, and the Georgia Apple Festival, all this weekend.
Around the house...
...I'm playing Leo Laporte "The Tech Guy" and Schuyler is wildly clambering the bars of her cage. Willow is watching the door, presumably daydreaming about her "daddy" coming home.
I am pondering...
...heredity. Why my mother was so courageous and I'm a rank coward. There seem to be no sensible answers.
A favorite quote for today...
"I saw old Autumn in the misty morn stand shadowless like silence, listening to silence."

Thomas Hood
I remember a misty autumn morning over Lake George (in fact it was much too misty that weekend; it seemed every time we went to see the leaves at Lake George it rained). Still and grey, with magnificent colors peeping out from the mist as we drove.
One of my favorite things...
...cool nights! Perfect to sleep through, if one can actual get other parts of the body to get some sleep as well!
A few plans for the rest of the week:
The Mistletoe Market, the Cobb County Library book sale, and the Georgia Apple Festival.
A peek into my day...
...nothing to see here. Move on, move on...
If you'd like to participate, check out
The Simple Woman's Daybook
.
Labels: Simple Woman's Daybook