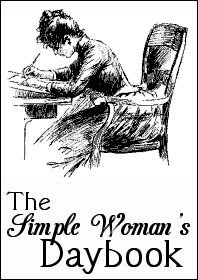 FOR TODAY, OCTOBER 16
Outside my window...
...it's later in the morning than I usually do this, so the sun is filtering through the trees on the east side of the house, faintly shining into the dining room and kitchen. It was only 48°F when I took the car to the mechanic for its fall checkup this morning, but according to the Weather Channel, it is already 62! No breeze like yesterday, though. :-(
I am thinking...
...what a great night it was for sleeping last night. I like it best when I can snuggle under a blanket, instead of having to emerge every so often to get a breeze from the fan. LOL. Still had the fan on, though.
I am thankful...
...for cool weather to sleep in. I do not sleep well when it is warm.
In the kitchen...
...I took a minute between e-mails to mop the floor. Really. The kitchen is so tiny this can be done in five minutes. James has been trying to do better about keeping the stovetop wiped off.
I am wearing...
...blue "scrubs" pants and an old pink short-sleeved sweatshirt, white socks and blue scuffs. It's still cool in
here
, thankfully!
I am creating...
...LOL. Order! Trying to put books away. Of course they're now all piled up in the library, but that's for another day when I'm not working.
I am going...
...to have to buy two new tires: verdict from the mechanic this morning. The car is getting an oil change, a tune-up, two new wipers, and two new front tires (since it's front-wheel drive). I'm also getting a quotation for James, who needs two new pickup truck tires.
I am wondering...
...when it will get cold and stay there. I was listening to yet another radio report on NPR this morning, talking about how lack of sleep promotes obesity and diabetes. I only sleep well when it's very cold. I wish there was a way to just make the bedroom frigid in summer: we have to lower the temp on the whole level which really wastes electricity. I have looked at room units, but they have to vent out a window and we have no room there, and we are not allowed to have stuff sticking out of our windows.
I am reading...
...
The Victorians
by A.N. Wilson, but think I am going to switch to
Flight From Monticello: Thomas Jefferson at War
by Michael Kranish because it looks so intriguing.
I am hoping...
...to have a painless search for a dress skirt to go with the top I bought. Maybe I can find the smaller sized black skirt in a different Catherine's (or in Lane Bryant, which apparently now owns Catherine's).
I am looking forward to...
...Juanita's wedding, even if I do have to buy dress-up clothing! David is a great guy.
Around the house...
...Willow is crunching on a dog biscuit, Schuyler is trilling to one of her toys, and I have "This Week in Tech" playing in the background. I am backed up again due to end-of-fiscal-year, so this is the one for the weekend after Apple won the suit against Samsung. They are talking about television ratings now.
I am pondering...
...what to wear for the wedding with the dress. The black is very sober. I shall have to wear Mom's faux pearls or maybe one of the Trifari pins. I do have the bird-of-paradise pin, which is very pretty.
A favorite quote for today...
Isn't this pretty? I hadn't heard it before. I should put one of my fall pins on!
"The morns are meeker than they were,
The nuts are getting brown;
The berry's cheek is plumper,
The rose is out of town.
The maple wears a gayer scarf,
The field a scarlet gown.
Lest I should be old-fashioned,
I'll put a trinket on."
 : : : : : : : : : : : : : : : : : : : :Emily Dickinson
One of my favorite things...
...fall festivals! Here they start with the Yellow Daisy Festival the weekend after Labor Day, and there are odd ones dotted throughout the fall. We miss "Blue Ribbon Affair," which used to be before the North Georgia State Fair. We went to the Georgia Apple Festival last weekend. Of course there will be some Christmas fairs coming up soon...
A few plans for the rest of the week:
Get the car fixed, get a purchase order advertised, finish some book reviews, wash the floors, get some spots off the carpet.
Oh, yeah, and bathe the dog. ::sigh::
A peek into my day...
How about a peek into my day a month ago?
Here are Kai Owen (Rhys from
Torchwood
) and the tribble-meister himself, David Gerrold (with appropriate T-shirt).
If you'd like to participate, check out
The Simple Woman's Daybook
.
Labels: Simple Woman's Daybook