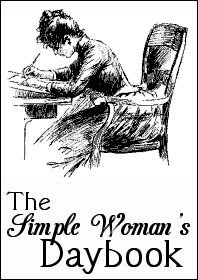 FOR TODAY, JULY 21, 2012
Outside my window...
...it's very grey, and still not quite dark yet. The birds have only recently abandoned the feeder for their roosts for the night! I hate when it stays light so late. It's unnatural. For some people, this is their bedtime.
I am thinking...
...how long it is since I've done one of these. I am so busy! And as the old saying goes, "The hurrier I go, the behinder I get." But late this week I did manage to get ten whole orders finished, and finally managed to get a quotation that has been long delayed. It doesn't catch me up much...not when folks are still waiting for their scientist and their vaccine communication, and oh, I never started something I said I would try to get to this week. And I'm still waiting, waiting for those new forms to come back! It's so frustrating!
I am thankful...
...for air conditioning. Earlier in the summer it was hot, but dry. Now it rains every single day, whether for five minutes or an hour, and the air feels like a hot sponge in the face. You raise a sweat opening a car door.
In the kitchen...
...the dishwasher is rumbling merrily as James just loaded it. He had a Subway sandwich we bought after going to Wally World for wild bird food, white dots, and the Hood's chocolate milk. (By finding the dots at Walmart we didn't have to go to Office Depot/Max/whatever. He needs them for his paint jars; this new brand doesn't have a color sample on the top, so he's going to do his own.) $63 worth of birdseed! I hope the birds understand when we can't afford this anymore.
I am wearing...
...usual summer garb, tank top in leopard print blues and purple on black, aqua shorts. And a Band-Aid, since in snipping open a blister pack I also snipped one of my fingers. Ouch!
I am creating...
...I started a cross stitch today! We went to JoAnn last night for the Coupon Commotion. These are usually good for adding some staples to the crafting closet. I got some beads for book thongs, spare candle bulbs, etc. These were good coupons, though, half off ones, so I indulged in a paper punch that cuts an autumn leaf pattern in the edge of a sheet of paper. It was only $10 after the coupon. Alas, I did not find the new DMC color combination floss. JoAnn doesn't even have room to put them. I wish we lived near a proper cross stitch store like the one in New Hampshire or the one in Pigeon Forge! Abecedarius has beautiful stuff, but they stock rare threads and patterns, not the commercially available stuff, and none of the craft stores here have a lot of cross stitch stuff (which is sad because I remember when Hobby Lobby opened they had a ton of things, including Mill Hill beads in specialty shapes).
Anyway, I can't show you the cross stitch because it's in a magazine, but it's a design of mostly autumn words (and some basic leaf shapes) done in backstitch, and the words form two maple leaves. It's in the new "Cross Stitch and Needlework."
I am going...
...to be busy again tomorrow: shopping and a trip to BJs. Tomorrow's the last day the omeprazole is on sale, and they don't limit you to one the way Costco does. Plus at BJs I can use my credit card and get Amazon points.
I am wondering...
...at all the lighted items on this year's "Christmas in July" on QVC! I mean, almost everything is lighted: angel statues, village houses, pine cones, garlands... The Luminara candles that look like they have a real, flickering flame are pretty cool; would love to see them close up to see how they do that flame!
I am reading...
...
The Poisoner's Handbook
, which is about the birth of forensic medicine in Jazz Age New York City. Just one of those books I picked up on a Borders' remainder table which has turned out so good. Also reading a book of essays about the
Torchwood
series.
I am hoping...
...for autumn. Summer, as always, is on major suckage mode.
I am looking forward to...
...wait! Didn't I just say this? LOL. And I've got a bunch of credit at Amazon due to car repairs/glasses/dog surgery, so am thinking of ordering
this
, which I've wanted since I laid my beady eyes on it at the Borders store in Boston.
I am learning...
...total frustration, but that's end of fiscal year for you.
Around the house...
...Willow's asleep in James' chair. Schuyler is pecking her bell. James is making egg planes downstairs. Two ladies are talking about LED lights on QVC. (This reminds me that we saw autumn light strings at JoAnn! These came in two styles, sets of yellow, orange, and brownish lights, or ones colored like candy corn.)
I am pondering...
...Aurora, Colorado, and why people want to kill other people. This guy was apparently intelligent and quiet. And psychotic. You never know, and that's the most frightening thing of all.
A favorite quote for today...
...mentioned once on
All Creatures Great and Small
:
"Heat, ma'am! it was so dreadful here, that I found there was nothing left for it but to take off my flesh and sit in my bones." . . . Sydney Smith
One of my favorite things...
...cherries, but I'm having really bad luck with them this year. The first bag was quite good and I had high hopes, but the others have been terrible, with even the darkest, firmest, plumpest cherries, which should be exquisitely sweet, are bland or even sour.
A few plans for the rest of the week:
Grocery shopping and purchase orders. How depressing is that. We won't even have
Flying Wild Alaska
to cheer us up anymore: the series ended on Friday.
A peek into my day...
(dang...I can't find a good pick of the Witch of the West melting...at least that's what it feels like outside)
If you'd like to participate, check out
The Simple Woman's Daybook
.
Labels: Simple Woman's Daybook