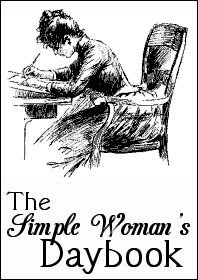 FOR TODAY, JUNE 5, 2012
Outside my window...
...
a grey morning. It rained yesterday and then cleared up, and now the clouds are upon us again.
I am thinking...
...
about a friend I knew only online. He passed away just before Memorial Day from complications from a broken bone. I have read chaffs about online friendships; that they are somehow less legitimate than face-to-face ones. But if you read someone's thoughts or memoirs, don't you learn something of them? Perhaps it is not as close as a face-to-face friendship, but it is still legitimate, is it not? I still felt unhappy upon the news, enough to cry. It must count for something.
I am thankful...
...
for all my friends, both those face-to-face and those online. They all give me joy.
In the kitchen...
...
there's some ground pork defrosting. I think we're having it with tomato parmesan noodles tonight, since we had "pork glop" (pork with crunchy peanut butter) last week.
I am wearing...
...
purple and blue leopard spot black top with aqua shorts and purple and white scuffs. And my watch. :-)
I am creating...
...
just finished a cross-stitch! The "French Country wreath," a Christmas design. The original was in plain red thread, but mine is in variegated thread
,
shading from dark red to garnet and back again. And I put the umlaut over the "e" just because I'm anal like that. LOL.
I am going...
...
crazy! You should see all the purchase requests I have. I think it's up to fifty, but I don't have time to count them, I'm so busy doing them.
I am wondering...
...
if I'll ever catch up. There are so many problems with all the orders.
I am reading...
...
a book I bought at the library book sale, part of a series called "The Wonderful Worlds of Walt Disney." This one is about Nature and has narratives from the True-Life Adventures and also the story of "Flash, the Teenage Otter." I want to get two of the other four books (the other is about fairy tales and I don't care about them). One is "America" and includes the Disney version of
Pollyanna
and the other is "Stories from Other Lands" and includes
Zorro
,
Big Red,
and
Mary Poppins.
I'm also reading
Johnson's Life of London,
written by the mayor of London, Boris Johnson.
I am hoping...
...
to get some things done this weekend! We must clear somewhere to sit for our guests next week?
I am looking forward to...
...
well, our guests next week. Jen and Mike are coming by on their ride to Jen's new duty station in Norfolk, VA. We've never met Mike and are looking forward to doing it in person; we've only talked to him online for the past fifteen years. See what I was saying about online friendships! Some of them go back so far that they are no longer just friends, but are friends who have become family.
I am learning...
...
lots of facts about the people who made London, as chronicled in Johnson's book. I knew most of the Dick Whittington story was just that, a story, but not how wealthy or influential he was. The same about Chaucer...didn't know he served in the Army and was held hostage in Reims until he was ransomed.
Around the house...
...
quiet now. So quiet that I wish I could go back to sleep. There never seems to be enough any longer.
I am pondering...
...
absent friends. ::sigh::
A favorite quote for today...
Life is full of beauty. Notice it. Notice the bumble bee, the small child, and the smiling faces. Smell the rain, and feel the wind. Live your life to the fullest potential, and fight for your dreams. . . . Ashley Smith
One of my favorite things...
...
history...which is why I'm having a grand time watching all this Diamond Jubilee celebration for Queen Elizabeth II. It's like super Fourth of July! Look at all those grand old buildings: the Houses of Parliament, Tower Bridge, the dome of St. Paul's...marvelous!
A few plans for the rest of the week:
Cleaning, cleaning, cleaning...Willow's surgery :-( ...maybe surgery on my computer.
A peek into my day...
How about a peek into last weekend, which was quite happy save for the insomnia and the dead battery:
"The Fids" at the hotel last weekend.
Click on the picture to enlarge!
If you'd like to participate, check out
The Simple Woman's Daybook
.
Labels: Simple Woman's Daybook