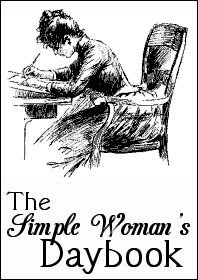 FOR TODAY, JUNE 12, 2012
Outside my window...
...cloudy, I think, as the windows are so fogged it's hard to tell. That means it is hellishly humid outside, since we do turn the A/C down at night to be able to sleep, but not that bad! Perhaps watery sunshine, leaking through the still-wet trees.
I am thinking...
...how much I have left to do till company comes...just a short time, which is a good thing!
I am thankful...
...to however much energy I have lately. Not much of it, though. I never feel as if I've slept enough. I'm not
tired
, per say, but
sleepy
. I think it's my allergy; I got a whiff of some cigarette smoke yesterday and my eyes swelled up, so I was quite miserable. I'm sorry, but I don't understand why people smoke! You take plant leaves, dry them until crumbly, roll them in a cylinder, cover them with paper to form a tube, set it on fire, and then put it in your mouth! Very strange.
In the kitchen...
...every time I walk in there, I am refilling another water bottle to go back into the car or the truck. It takes 30 seconds a bottle.
I am wearing...
...black tank top and shorts, the flower-patterned scuffs. The usual.
I am creating...
...just finished a couple of crafts, but can't mention them here, since the persons who they're for read this blog.
I am going...
...to start work in a few minutes, and later will need to clean the hall bath and finish the laundry.
I am wondering...
...now that it's nearing end of fiscal year? Seriously, about my own sanity...
I am reading...
...
Walt Disney's Tales from Other Lands
, which has the narrative text and screen caps from the old "People and Places" featurette series, so, quite cool and
Johnson's Life of London
. Just finished Turner, the painter, and am now on to the Rothschilds.
I am hoping...
...that the sanity holds out. This pile of papers makes me want to scream like a little girl.
I am looking forward to...
...visitors! Oh, and just found out John Barrowman's coming to DragonCon. We're doomed; the crowds will be insane.
I am learning...
...how to juggle. Not balls, papers. More like knives in that respect.
Around the house...
...quiet, with the sound of typing. And budgie crunching on seed. Soon will be alive with sound of washing machines. :-)
I am pondering...
...the moving finger having writ and moved on...my cousin Frankie died a few days ago. He was only 70. When I was a kid I thought that was very old. Now it seems so young!
A favorite quote for today...
"By working faithfully eight hours a day you may eventually get to be boss and work twelve hours a day."
. . . . . Robert Frost
Sorry...no. I've seen the boss's job...and I don't want it. Not for all the trips to Europe in the world. Terrifying.
One of my favorite things...
..."Headlines" on
The Tonight Show
. Always the funniest part of the week.
A few plans for the rest of the week:
Friends visiting! Hair day! Need to go to the "Firefly Frenzy" at JoAnn, although the sales flyer was remarkably chintzy with the coupons. Need to get some new Sharpies...and the new DMC Color Combinations floss if they have them.
A peek into my day...
::grump:: thinks Willow. They shaved my pretty ruff.
It will grow back, sweetie. ::pats::  
If you'd like to participate, check out
The Simple Woman's Daybook
.  
Labels: Simple Woman's Daybook