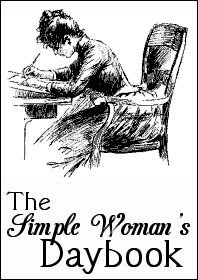 FOR TODAY, MAY 8, 2012
Outside my window...
...
cloudy and grey. It looks as if it will rain again.
I am thinking...
...
of the nice dream I was having when the alarm went off. It was cold enough to wear a jacket and a hat, and someone had a snow machine going, so it was snowing without any of the problems of snow. Bliss.
I am thankful...
...
for a sleep-in this morning. I can't seem to get eight hours sleep anymore on weekend, and weekdays are impossible. I can't go to sleep early, as I'm not tired at nine or even at ten! In fact, I have most of my energy at night. Morning is the big problem!
In the kitchen...
...
James forgot to get something out, I think. I shall have to pull some beef; I believe that's what we're "on."
I am wearing...
...
my new blue/purple on black "leopard" top and aqua shorts and the purple flower scuffs.
I am creating...
...
exhaustion. Really. That's all I can think of. I feel like a slug.
I am going...
...
to wash clothes today along with working. That's the exciting bit for the day, folding clothes. ::snore::
I am wondering...
...
no, it's more thinking...some friends of mine are in Boston. I am positively green-eyed. A good long stroll, lunch, another stroll... ::sigh::
I am reading...
...
Charles Finch's
A Stranger in Mayfair
and have rarely been so frustrated by a book in my life. I picked out the "secret" of one character so early that when Lenox finally realized it I shouted aloud, "Well, it's about time you got it, you git!"
I am hoping...
...
for relief. If only I knew what from and how to do it.
I am looking forward to...
...
Timegate. Already jonesing for a good Sherlock Holmes panel.
I am learning...
...
nothing, apparently. I'm feeling stagnant at all points. It's really quite depressing.
Around the house...
...
it's still dark. I wish I could go back to sleep, but it's off to face those forty purchase orders. I should meet them with a sword, but, alas, it will only be with a whimper.
I am pondering...
...
I won't. It's too disturbing.
One of my favorite things...
...
woods, lovely, dark and deep. "But I have promises to keep..."
A few plans for the rest of the week:
I must start looking for glasses. Maybe if I get new ones these blasted headaches will go away. The trouble is not the exam, or the money, it's the
damn frames
. Very rarely ones I like, or ones that I like that fit my stupid nose, or are the right
color
. I found a great pair when James was shopping for his, but they were PINK. I hate pink. Despise pink. Loathe pink. When will marketing people notice that all women DO NOT LIKE PINK? And I need new pillows.
A peek into my day...
Alas (glancing at pile of waiting purchase orders at my left)...I would only put you to sleep.
If you'd like to participate, check out
The Simple Woman's Daybook
.
Labels: Simple Woman's Daybook