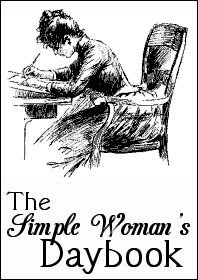 FOR TODAY, MAY 3, 2012
Outside my window...
...the sun is still struggling up from behind the trees. For all I care, he can stay back there. It will be another day in the 80s. Ugh. Thank God the A/C works better at home than it does at work.
I am thinking...
...LOL. Summer always makes me think of moving to Alaska. But they eventually have summer up there, too. And mosquitoes. Legendary ones, I hear. :-)
I am thankful...
...for Tylenol. I woke up this morning with a burgeoning migraine. Tylenol helped tame it.
In the kitchen...
...I'm burning a
cafe au lait
Yankee Candle. Heaven must smell of coffee and fresh-baked Italian bread.
I am wearing...
...black shorts and tank top, purple-flowered scuffs.
I am creating...
...nothing these days. I need new glasses and am having problems with headaches. Having looked at some frames when James was doing the new glasses route, I'm now on the search for decent frames. I found a nice pair of the flexible ones at Vision Works, but they were
PINK
. I despise pink. I loathe pink. Barf!
I am going...
...looking for other glasses frames, obviously. I don't want big glasses anymore; it can't take it where I broke my nose any longer. The pain can get quite intense. But I hate the little narrow John Lennon type. And don't get me started on the David Tennant type; I hate plastic frames almost as much as I hate pink. My skin is oily and the plastic frames get all greasy. Ugh.
I am wondering...
...what to do with the turkey thighs I'm cooking for supper. But then plain old turkey with gravy is perfect just as it is.
I am reading...
...an ARC of
Superman
by Larry Tye and enjoying it very much. I've spotted at least one mistake—Mighty Mouse from Disney? No, hon, that was Terrytoons—but I love that they're talking about Robert Maxwell, who worked at the comics end of the Superman franchise before doing the first season of the television series—before he went on to do the first two seasons of
Lassie
.
I am hoping...
...it will get cooler. But I am Not Holding My Breath. :-) It's May, after all, and it's usually in the 80s in May here.
I am looking forward to...
...well, I was going to say sleeping late on Saturday, but since they're having an arts and crafts show on the Square, if we want to go to the Farmer's Market, we'll have to go early.
I am learning...
...lots about Superman that I didn't know. I haven't read much about his creators, though; there is probably information I've missed.
Around the house...
...quiet now. Have a Tech Guy podcast and This Week in Tech to listen to later.
I am pondering...
...how the days go by so slowly and the weeks and months go by so quickly. My God, how did it get to be May already?
A favorite quote for today...
"I couldn't live a week without a private library - indeed, I'd part with all my furniture and squat and sleep on the floor before I'd let go of the 1500 or so books I possess.
"
H. P. Lovecraft
One of my favorite things...
...
House, MD
, which is heading for its series finale in just three weeks. I think the series has lost its edge, and I haven't always liked where they went with things, but Hugh Laurie has always been magnificent. Meanwhile, I want to take Dr. Wilson home with me...
A few plans for the rest of the week:
Work, work, work. And some sleep, I hope. No sun, please.
A peek into my day...
Willow over the years (how time flies!). Click for larger version.
If you'd like to participate, check out
The Simple Woman's Daybook
.
Labels: Simple Woman's Daybook