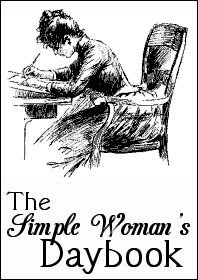 FOR TODAY, MAY 22, 2012
Outside my window...
...
still cloudy. We had some rain last night, sadly some of it at the beginning of the
House
retrospective so we lost a bit of it. No birds at the feeder yet...odd.
I am thinking...
...
sorry...of the weekend! (And the book and tripod due from Amazon Vine. I really shouldn't have gotten the book, but it sounded like a good mystery.)
I am thankful...
...
for new glasses, or will be when I get them. The frames will be very light. The less weight on my poor abused nose the better.
In the kitchen...
...
no idea, haven't been in there yet. Hope James took something out for supper.
I am wearing...
...
my "multicolor blue" tank top and aqua shorts and the purple-flower scuffs.
I am creating...
...
more purchase orders; it's just that time of year.
I am going...
...
to make a decision on something today. News at eleven. Or tomorrow. Or Thursday.
I am wondering...
...
what I can do to make more time for myself. It seems like I spend so much time not doing what I want.
I am reading...
...
Literary Landscapes
, a book I picked up at the Cobb County Library book sale. It's about English landmarks as represented in books. Just finished the section about the London of Chaucer, Shakespeare, Dickens, through Virginia Woolf, and am now on Bath.
I am hoping...
...
the new glasses help the headaches I've been getting, although when I told the eye doctor where they were he said it wasn't eyestrain, it was sinus. In any case, fresh anti-glare coating can't hurt!
I am looking forward to...
...
Timegate!!!!
Two
Sherlock Holmes' panels! What richness!
Around the house...
...
quiet, soon to be noisy with perpetual typing sounds, podcasts, budgie chirps, and printer sounds. Right now even the A/C isn't on...yay!
I am pondering...
...
absent friends.
A favorite quote for today...
Ah, I would love my little birds at the feeder to do this!
"I once had a sparrow alight upon my shoulder for a moment, while I was hoeing in a village garden, and I felt that I was more distinguished by that circumstance that I should have been by any epaulet I could have worn." . . . . Henry David Thoreau:
One of my favorite things...
...
Schuyler, who is climbing on the bars kissing me, trying to attract my attention. It is hard to explain to her that when I am at home during the week it must be devoted to work and not to play. Birds don't understand having to "earn seed."
A few plans for the rest of the week:
...
waiting for the mailman! Amazon Vine!
A peek into my day...
...Nostalgia: Louis Robinson doing his always enjoyable Sherlock Holmes panel at Timegate 2009.
If you'd like to participate, check out
The Simple Woman's Daybook
.
Labels: Simple Woman's Daybook