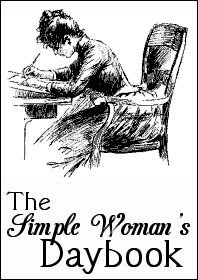 FOR TODAY, APRIL 3, 2012Outside my window...
...the sky is a yellowish-white in the east, with the trees behind our house silhouetted before it. The leaves tremble in a slight breeze. Birds are already awake and about; there is a fluttering around the feeders.
I am thinking...
...that I wasn't very happy with
Castle
last night. I've always hated the romance-book convention where one person in the relationship finds out something negative about the other, and, instead of confronting them, just pulls away bitterly. It's the reason that, although I love Danny Kaye, I don't watch
White Christmas
that often: I hate the stupid misunderstanding between Betty and Bob. If I wanted to watch this dance, this would not be my choice of program to do it on.
I am thankful...
...for a telework day today! Goodness, it was hot at work yesterday, 80°F when I walked in at 7 a.m.! This is much better—I can wear less clothing and be comfortable, even if I have to spend lunch doing laundry.
In the kitchen...
...I decanted some quick-cooking basmati rice into a container to get it out of the way. It
almost
fit. :-) Maybe we need to have basmati rice with our steak tonight.
I am wearing...
...blue tank top, aqua shorts, and purple-flower scuffs.
I am creating...
...a couple of small cross stitch projects that I'm right in the middle of. Had to clean off my craft room desk; like every other horizontal surface in this house, it attracts junk!
I am going...
...to buy another tool holder for this craft desk. Presently pens and other things are horizontal and taking up too much space. I like the "crystal" plastic one I bought for my work desk last week and want to get another.
I am wondering...
...if I should get rid of some of the computer books over my desk. I'm staring at them now, and they're piled one on top of the other. I do need to get rid of the Pocket PC book. I still have my Jornada, but don't use it.
I am reading...
...the sixth (I think) Daisy Dalrymple mystery,
Dead in the Water
, about a murder at the Henley regatta (there are so many characters I'm having trouble keeping them straight), still in the middle of the Mark Stein book and a few others, and also reading a Monks of New Skete book about spirituality for Holy Week.
I am hoping...
...that we can find another nice place to have Atomicon next year. Unicoi Lodge will be closed all 2013 for remodeling. (I'm really not surprised, as the rooms have been in horrible shape for the past couple of years; things broken in the rooms, and the doors peeling.) I hope they don't get rid of the neat artwork in the rooms! (Vintage framed covers of "Field & Stream" and other magazines of that ilk.)
I am looking forward to...
...Atomicon. I know the fids are not...Willow hates "camp" and they are both getting checkups and shots.
Around the house...
...everyone just waking up, including me. Schuyler blinks sleepily. Willow's still in the chair. It's cooler out, so the A/C hasn't kicked in. Yet. It's going to be 80-something today. Double ugh.
I am pondering...
...friendships.
A favorite quote for today...
"Delicious autumn! My very soul is wedded to it, and if I were a bird I would fly about the earth seeking the successive autumns." . . . George Eliot
(How true! If I was a millionaire I would go due south every April, past the equator and as close to Antarctica as one can, and not come back until October.)
One of my favorite things...
...will start listening to it in a little while: Leo LaPorte's "The Tech Guy." Great computer tips. Yeah, sometimes too much babble about iEverything, but some good tips as well. I really used to like the show
The Screen Savers
, which he was on with Patrick Norton.
A few plans for the rest of the week:
Must go to Michaels on Saturday; there's a 30 percent off entire purchase coupon. It's not on sale and clearance items like JoAnn does; however, I use these to go through the low-price bins and pick up little stocking stuffers and small useful things, like cosmetics cases that can be used for other things.
A peek into my day...
Here's an Atomicon memory from 1999—on the bridge overlooking the Chattahoochee River (click picture for larger version):
If you'd like to participate, check out
The Simple Woman's Daybook
. 
Labels: Simple Woman's Daybook